Everyone's Dressing Like An IRL Mermaid This Summer — Here's How You Can, Too
@greceghanem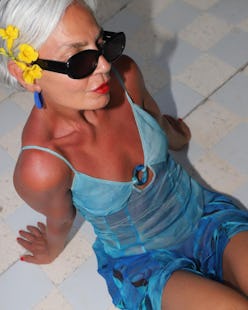 We may receive a portion of sales if you purchase a product through a link in this article.
Barbiecore, balletcore, cabincore... over the past few years, more viral aesthetics than we can keep track of have infiltrated the fashion scene. But perhaps none of these sartorial vibes have stuck around quite as long as the mermaidcore look. Thanks to the upcoming release of the live-action version of The Little Mermaid, everyone, including Hollywood's top celebrities, wants to channel their favorite fictional Disney character this summer (in fact, Pinterest searches for the internet trend have recently surged 614%). That said, how exactly does one dress like a fantastical sea siren in a stylish way — and without, you know, looking like they're en route to a Halloween party?
"Always remember to keep it simple," celebrity stylist Jennifer Austin tells TZR. "You don't need to overload on the mermaid magic; choose one piece to be the main focus and pair it with simple but fun accessories." Take, for instance, the under-the-sea look Austin put Angela Bassett in for the 29th Screen Actors Guild Awards (pictured below). The actor tapped into an underwater energy by toting a seashell-shaped bag on the red carpet, which she paired with a striking yellow gown. Likewise, ocean-inspired jewelry, such as starfish earrings or a shell-adorned necklaces, are easy entry points into the look.
Caroline Maguire, Shopbop's fashion director, is on the same page as Austin. "It's important not to overdo it," she explains to TZR. Thus, the fashion insider encourages you to pick a statement style — such as a handbag or shoes — and then keep the rest of the look on the minimal side. "Putting together too many pieces may make the look feel too costume- y," she notes.
VALERIE MACON/AFP/Getty Images
Jesse Grant/Getty Images Entertainment
As for celebrity stylist Jacqueline Zenere's best piece of advice is not to take the whole mermaid conceit too literally. "Be inspired by the many colors of the sea, from sea urchin ink to coral pink," says the fashion expert, who works with stars like Elizabeth Olsen and Camila Mendes. According to the stylist, fish scale dresses are always en vogue. Just look at the iconic numbers Dior created in the '50s — which Natalie Portman just brought back at the 76th Annual Cannes Film Festival — and the Armani sequin gown Anne Hathaway wore at the 81st Academy Awards in 2009. "There are ways to look mermaid-y without throwing a tail on," she ensures.
Dive into mermaidcore with five key items to achieve the look, complete with styling tips and a shoppable edit for each.
Mini Dress
A feather-trimmed mini dress rendered in ocean-like hues is such a modern take on mermaidcore. (Ariel may not have worn plumage, but hey, that doesn't mean you can't!) Since the teeny-tiny number is already sure to garner attention, consider styling the outfit with understated cream accents, as exhibited above.
Netted Skirt
If bold colors and flashy sparkles don't resonate with your personal style, tap into an aquatic vibe via a white netted skirt. From there, incorporate subdued neutral pieces into the outfit, such as an oversized tan tee and black leather boots.
Seashell Necklace
As noted by the experts, you needn't go overboard with your oceanic references. One simple approach? Try working a statement-making seashell necklace into a casual beach outfit, like a matching bikini with slouchy short on top.
Sparkly Gown
Replicate the recent spate of mermaidcore moments on the red carpet (we see you Halle Bailey) with a shimmering sequin gown at your next formal event. Extra fashion points if you round out the look with turquoise blue statement earrings and metallic sandals.
Starfish Jewelry
Dip your toes into the oceanic look with a starfish accents on, say, a necklace or pair of earring. Should you plan on wearing said accessory to the beach, team it with a swimsuit and bright sarong. Bonus points for adding in a frozen margarita.