I'm Obsessed With Sofia Richie's Style & These Pieces Help Me Get Her Aesthetic
Sophistication meets cool girl.
Gotham/GC Images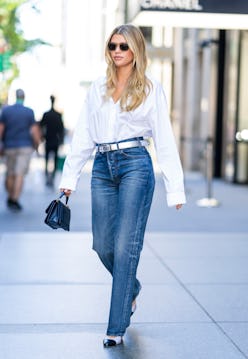 We may receive a portion of sales if you purchase a product through a link in this article.
Ever since her epic April wedding festivities in the French Riviera, Sofia Richie has undeniably captured the attention of fashion girls everywhere. It was there that she turned heads in a series of mesmerizing custom Chanel bridal looks, along with a handful of stunning wedding-adjacent 'fits. Her minimalist, expensive-looking aesthetic quickly became synonymous with the viral "quiet luxury" trend, solidifying her status as an It girl. Even now, Richie's style continues to resonate with her fans as it embodies both a sense of sophistication and timelessness.
I must confess: Like many people, I too am infatuated with Richie's seemingly overnight fashion supremacy. I'm irresistibly drawn to her cool-girl elegance and ability to curate a wardrobe (and beauty look) that exudes understated glamour. She has quickly joined the ranks of minimalist, stealth-wealth icons in my book such as Rosie Huntington-Whiteley and Gwyneth Paltrow, becoming a new go-to source for my own fashion inspiration. While I may not fully commit to the quiet luxury look as wholeheartedly as Richie has — I personally still have a soft spot for bold colors and shiny accessories, a departure from Richie's signature aesthetic — I realize that every wardrobe, including my own, could benefit from a capsule of elevated pieces that transcend trends and, simply put, will always look good.
As Richie has proved, there is an art to balancing simplicity with a touch of opulence. It starts with finding the essential pieces that serve as the foundation of your wardrobe — think tailored blazers, perfectly fitted jeans, crisp white shirts, sleek sunglasses — you get the idea. Once your foundation is complete, you can layer in a few standout items to infuse your wardrobe with a touch of fun and luxury. Voilà! Richie's signature style is achieved.
Ahead, find the 10 elevated pieces I'm shopping for in order to master the Richie aesthetic.