Svitlana Bevza On How Her Debut Met Gala Looks Pay Tribute To Ukraine
The beautiful story behind her creations.
Taylor Hill/Getty Images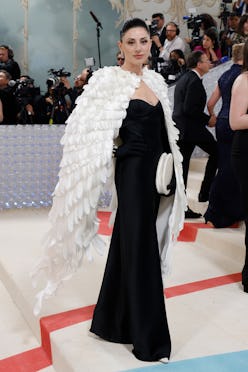 The Met Gala is a charity function, fashion show, and exclusive dinner party all rolled up into one. Every year on May 1, guests use the glamorous night as an opportunity to see and be seen in their on-theme looks — and in many cases, utilize their outfits to amplify political and social messages (please see Alexandria Ocasio-Cortez's "Tax the Rich" white dress from 2021). This year, amid a sea of Karl Lagerfeld fashion tributes at the 2023 Met Gala, Ukrainian designer Svitlana Bevza and her plus one for the night, model Pasha Harulia, wanted to make an important and symbolic statement of their own: to call attention to the on-going war between Ukraine and Russia.
Bevza's debut Met Gala look represented the Ukrainian community's strength and resilience. It centered around a striking wing cape, composed of silk fabric that was hand cut and then pieced together one by one, so that the finished product resembled feathers on a bird. It took two Bevza team members a week to create the intricate piece in the label's Kyiv atelier. "These wings are white to symbolize visions of peace and hope," Bevza says to TZR. "I'm always trying to think positive even in dark times." Underneath the wings, the designer wore a black seashell motif dress, a brand signature. Her look serendipitously tapped into the plumage fashion trend that dominated the Met Gala carpet, and Karl Lagerfeld's go-to black and white color scheme.
A sketch of Bevza's Met Gala look.Daria Yeremenko
Because no Met Gala look is complete without a few standout accessories, Bevza wore an egg-shaped pendant and carried a coordinating clutch from her own label that were also rife with symbolism. "The egg represents the beginning of life, so it combines very well with the wings of hope," she explains.
For the founder, using her Met Gala look to start a conversation about the war in Ukraine felt personal and instinctive — Bevza was born and raised in Kyiv, the country's capital city, and her family, including her husband, still lives there. "I'm not the type who looks for [design] inspiration that is artificial," she says over Zoom, a few days before the event. "It's very natural to talk, through my works, about what is going on in Ukraine. This is my mission and my duty as a Ukrainian because we're all heartbroken [right now]."
A close-up of the wing cape.
The back details can't be missed.
Bevza accessorized with a Chanel cuff bracelet.Lena Shkoda
Indeed, for those who follow the creative's brand, founded in 2006, you know she's always been vocal in supporting the Ukrainian community, both on social media and in her runway collections. In Bevza's Spring/Summer 2023 collection, she incorporated armor details into her dresses and tops as a nod to the gear Ukrainian soldiers wear in the war. In her Fall/Winter 2023 lineup, too, which was about life and death, it was rife with black feather motifs.
For Harulia's outfit, Bevza once again worked in Ukraine-inspired details into the pieces. The model wore an inky navy dress with shell details, which paid homage to her homeland Crimea, whose national emblem is a seashell. (Crimea has been occupied by Russia since 2014.) To go with Harulia's dress, Bevza made a custom necklace for her that featured a repeating pattern of wheat spikelets.
"The spikelet is a very symbolic thing to Ukraine," says Bevza, adding that she initially used this design for her accessories back in 2019. "We are one of the largest exporters of wheat in the world — bread feeds our country and a lot of other countries abroad — but unfortunately after the full-scale invasion, Russia bombed a lot of the wheat fields in Ukraine [leading to price increases]." As a tribute to the burned fields and destruction, Bevza plated a silver necklace with black rhodium to give it a very dark, scorched look.
Harulia's spikelet necklace took center stage on the carpet.Taylor Hill/Getty Images
The model's full look at the Met Gala.Taylor Hill/Getty Images
For the designer and her team, their ability to create two beautiful looks for fashion's biggest night amidst a war comes with bittersweet feelings. "I was in the office months ago when another raid siren came on. What we do in this event is we check the Telegram [app] to see [where the missiles] are going, and if they're flying another direction from us, we keep working," she says. "I wouldn't say this is a good reaction to the sound and news, but my team and I decided that it would be more depressing to sit at home and do nothing, so we continue to work." Bevza says that she travels back and forth between London, where she currently lives with her two kids, and Ukraine for work.
In the days leading up to the big night, Bevza shared with TZR that she was both excited and slightly nervous for her Met Gala debut. More importantly though, she knows a major event like this is also the best platform for her to talk about important global issues. "It's a surprise and great honor to be here, for me to speak a word about Ukraine," she says. "I appreciate that people in the [fashion] industry are showing, maybe, respect to the country through these gestures." The cherry on top, too, was that both Bevza and Harulia absolutely commanded the famed Met steps in their special outfits.