Don't Let Disco's Ashley Harris Turns Nostalgia Into Infectiously Happy Jewelry
Pieces to remind you of special times.
@dontletdisco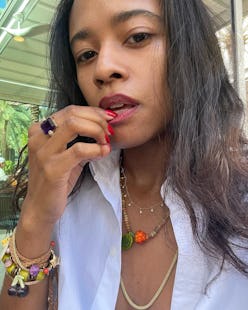 We may receive a portion of sales if you purchase a product through a link in this article.
A brief perusal of the jewelry on Don't Let Disco's website shakes loose bits of a childhood memory I can't fully place. The necklaces and bracelets are strung together with beads as bright and colorful as candy, adorned with charms reminiscent of the cartoon pen toppers and kitschy erasers the most artsy kids in class would store in Hello Kitty pencil cases. The designer behind the brand, Ashley Harris, tells me her customers often react that very same way upon examining her baubles, feeling a sentimental pull that prompts them to share stories with her.
"The ducks — I get a lot of moms who will tell me that the duck was the theme to their baby shower," Harris says, dangling necklaces and bracelets before the camera. "That comes up a lot with the bumblebee charms, too." Virtual chats often strip a layer of some nameless human quality from every meeting experience but the magic of her work is somehow not lost via our Zoom conversation, nor is the palpable joy in Harris' voice as she digs for different beads from her collection to show off. "At a trunk show, I can literally end up leaving with 10 stories because there's always a charm, or a material, or the texture of something that sparks a memory," she says, beaming. "And to me, that's the most special part, because you get to connect with someone immediately on a really personal level."
Harris has always been a keeper of mementos and sentimental things. As a teenager, she could be found picking through beads and trinkets at secondhand stores while friends were busy scanning racks for vintage clothing. Over the years, her thrift store finds and family heirlooms accumulated, but there was outflow from her personal supply, too — she fashioned new pieces out of old jewelry for friends, eventually finding a venue to sell her work as a university student at Spelman College's Market Fridays. Among stands of undergrads selling baked goods and tutoring services were the beginnings of a business Harris would fully realize years later in 2019.
Her love of jewelry has been lifelong, but the idea behind Don't Let Disco started to take a clearer shape while she was working as the marketing director at Sotheby's auction house from 2016 to 2019. The job exposed her to the kind of remarkable pieces that would entice a clientele list of the world's most highbrow collectors: centuries-old works of art, classic furniture, rare manuscripts, and carefully preserved documents. Working with valuable cultural artifacts so often, including everything from Renaissance paintings to an original copy of the Constitution, Harris found herself cataloging the special moments via an Instagram account she named Don't Let Disco — a punny reminder to hold tight to the meaningful happenings of everyday life: don't let this go.
When she stepped away from the auction house and officially launched her jewelry business in 2019, Harris knew she wanted the ethos of her new label to capture that same spirit around treasuring memories. She named her venture Don't Let Disco, in honor of her social media scrapbook. In addition to serving as a play-on-words reminder to hold dear things close, the brand name is an homage to the style and culture of the '70s. "I love the disco era because the '70s, to me, was a real moment in time where Black creatives were coming to the forefront and able to say something political in all these different forms and mediums," Harris says.
The designer poured herself into the business, working as a team of one for the first year of its operation. She would drop newly made jewelry every Friday, stringing up, sourcing, and cataloging everything herself. A few years out now, she has a small production team and partnerships with independent creators worldwide. Finely crafted component parts from a global network of artisans — handpainted porcelain beads made by a couple in Detroit, ceramic beads via a duo of Ukrainian artists, Lego charms from a connection in Venice — all come together in her collections.
Despite her lofty status in the art world, Harris makes it clear up front that her designs are geared toward more whimsical consumers, those who might frequent museums and galleries or fancy themselves aesthetes, but don't take themselves too seriously. The Don't Let Disco buyer is a playful person who might pair a necklace of banana-yellow ceramic beads with a bracelet that features Lego-shaped charms. (Harris has an affinity for the humble toy, which she's nodded to in multiple designs — "In my own opinion, the Lego block symbolizes the endless possibility to build.") A liberal use of puns sets the tone right away for anyone glancing at the pieces' names.
The Some Mother Universe necklace features beads that look like swirling celestial bodies, alongside some likenesses of human body parts (carefully crafted breast shapes). The arrangements are meant to resemble vertebrae, an illustration of women as the "spine" of the universe.
"Everything kind of works on the principle of pun and everything has a double meaning," Harris explains. Gourd Vibes Only and Mr. Mice Guy are cheeky names that describe their respective pieces' themes quite straightforwardly, but the full meaning of each design is not always so immediately apparent. Even those with seemingly obvious stories to tell hold more layers of significance beneath the surface.
"The Berry Wonder pieces are an ode to summer," Harris explains. Her berry-themed offerings come in a rainbow of colors, and some even contain a drupelet or two in different shades to mimic the variation found in real berries. The finished products are masterfully rendered, and against my better judgment, I still kind of want to bite one. "They're memorializing a breezy summer afternoon, a summer berry, a little bee gnawing at that. But it's also an ode to my appreciation for still-life Renaissance painting: you'll see florals, you'll see juicy fruits fall across a table." She carries similarly thoughtful touches throughout the line, like the brass coils that trail behind celestial charms meant to depict the tails of shooting stars.
Harris' latest Don't Let Disco debut, Caviar Crafts, is billed as her first foray into the fine jewelry space. It's not in the brand's DNA to be fussy or self-serious, but the pieces are work-intensive. Any given style might feature beads Harris has had in her personal reserve since high school, the remnants of thrift store jewelry raided for parts as a teenager. They might be constructed with painstakingly crafted pieces from one of the partnerships she's cultivated with artisans worldwide, with whom she connects to source the finest Murano glasswork and ceramic beads or to develop unique new charms. But they're all distinctive, all one of a kind — which makes it particularly irritating when people diminish beading and craftwork as child's play. The designer's encounters with that kind of person served as perfect inspiration for the new line's name.
"When I would do trunk shows or whenever I would be showcasing my jewelry, there would always be a woman — always from the same demographic, who would really turn their nose down to my work," Harris says. "'Oh, beads, cute,' 'I used to do beading with my kids when I was younger,' or 'Aw, my grandkids do beading.' I'm really proud of the fact that I make things by hand; that's not something I'm ashamed about. I want to celebrate that. And so I always said when I moved into fine jewelry, I was going to call it caviar."
Courtesy of Don't Let Disco
Caviar Crafts officially launched on the brand's site in December. Harris kicked it off with a departure from most of her usual bead-focused offerings: a versatile leather braid that can function as a wrap bracelet or a necklace with 14K yellow gold and handcrafted charms. As for the line's future? She plans to further incorporate precious materials into her existing body of work. At the moment, she's feeling specifically drawn to quartz, noting it'll be a big theme for the forthcoming pieces. She dabbles a bit in the divine, charging crystals on a full moon and researching the significance of the stones she uses in her jewelry. It tracks that the owner of a brand called Don't Let Disco subscribes to the spiritual aspect of the gems she works with. Harris is interested in the lore of crystals and the various powers said to be imbued in them, although Don't Let Disco is generally about channeling the positive vibes of its name.
"I love disco music, so [the brand is] a hundred percent an ode to my love of disco but it also felt like a time in history when people were really accepting of one another and coming together in spaces, having a good old time," she says. "Disco is a celebration of the good times, the good vibes, the way something made you feel."
If Harris succeeds in her mission, each Don't Let Disco piece will remind the customer of a positive era in their own lives: a baby shower theme, a beloved garden they'd visit in the summertime, an old nickname. Maybe it will call to mind something so acutely that your breath catches in your chest for a moment just scrolling through the website — even if you can't quite recall what it is, even if it's just youth in general, a broad but tangible gesture toward the "good times." Harris sells fine jewelry but what she's really making is bottled nostalgia, molded into little charms and shiny beads for the wearer to clasp on their neck or wrap around their wrist and remind them that whenever they encounter something that makes them smile, to hold on tight, and not let go.