Milan Fashion Week Street Style Is Worth All The Envy
So much outfit inspiration.
Darrel Hunter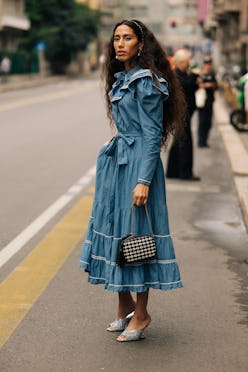 New York and London might be in the rear-view mirror, but there's still plenty ahead as Fashion Month's agenda heads east, to Milan, before concluding in Paris the first week of October. The Italian city's usual suspects are slated to show their newest collections, with Fendi kicking off the shows on Wednesday afternoon and making way for Versace, Jil Sander, Bottega Veneta, Ermanno Scervino, and more thereafter. Of course, the street style at Milan Fashion Week Spring/Summer 2023 is often as enticing as the shows themselves, so you're sure to see many guests push the envelope with their looks.
So far, bomber dresses, metallic sets, and denim boot pants have made for major outfit inspiration as they struck a balance between minimalist and bold. In terms of a color palette, pink, green, and a combination of the two were especially popular among fashion week attendees. Still, there were notes of classic Milanese style, with some street stylers reaching for gold-detailed outerwear, flowing midi skirts, and rich, neutral palettes. Overall, however, the city's fashion-savvy residents and visitors seemed to favor looks that take from a wide span of years — namely, the '90s to mid-aughts (the blue tights and Mary Janes are so Blair Waldorf).
But before any more spoilers can be doled out, you should scroll ahead to see the best of the best from MFW.
Day 5
Tiffany Reid, senior vice president of fashion at BDG Media, went for a neutral look while attending shows. A pair of python print platform pumps, however, gave her ensemble that pop of intrigue.
You already know that trench coats are a must have in any wardrobe, but for a slight twist on this outerwear opt for a style without sleeves.
One of the easiest ways to look put together when you're in a hurry, is to match your accessories to the colors in your outfit. Here, this Fashion Week guest opted for a black and white color palette.
This showgoer tapped into the psychedelic print fashion trend via a colorful dress that was further accentuated with her emerald green Bottega Veneta Jodie purse.
One noticeable street style trend at MFW was the styling of a dress (or skirt) over pants. Give the look a try this fall.
This attendee kept things sweet and feminine in a ruffled blue dress. For an added sparkle, she wore glistening peep-toe mules.
Of course, MFW street style wasn't complete without a cargo pants sighting. This outfit served as a gentle reminder to purchase a pair of your own.
This lucky person managed to secure one of Fendi's coveted purple sequin Baguette bags, which first appeared on Carrie Bradshaw in And Just Like That...
Sometimes, all you need to dress up a black blazer dress is a pair of floral thigh-high boots and a playful pink purse.
MFW street style stars certainly loved Bottega Veneta pieces. This guest was one of many who opted to wear the fashion house's iconic accessories.
Day 4
Reid didn't let a little rain stop her from dressing up for a day of shows. She wore an oversize leather jacket over a knit green top and mini skirt. For accessories, she continued with the green color theme via her Bottega Veneta boots, and she carried a Prada bag.
This street styler knew that a statement hat would help her outfit make an impactful fashion statement.
Always keep a fuzzy, printed fleece jacket on hand as it can liven up any neutral outfit.
Low-slung pants were a trend on the Versace, Bottega Veneta, and Bally Spring/Summer 2023 runways. This showgoer decided to tap into the look a season early with a pair of chocolate-brown pants. She wore a matching bandeau top and styled a printed button-down shirt on top.
This Fashion Week guest stayed warm in a Cruella de Vil-inspired black and white pattern coat.
Sometimes, all you need to do to make an outfit stand out is rock one very large pair of architecturally beautiful earrings.
Transitional weather is perfect for leather shorts and trench coats, so take advantage of that pairing ASAP. If you need a little inspo for styling, just look to this Fashion Week attendee.
The draping of this red fabric across her button-down shirt and skirt look provided a bold point of impactful for the eyes.
One can never dismiss the power of an LBD. This Fashion Week guest looked classic and timeless in her long knitted dress styled with tights and sleek white pumps.
Grommet and stud details added a more intricate texture to this already edgy denim and leather look.
Day 3
Reid kept it classic in a Gucci-filled look. Her emerald blazer from the fashion house and Gucci Jackie bag coordinated with the colors in the rest of her ensemble.
The next time you're thinking of styling a plain bodysuit or tee underneath your pantsuit set, pause. Take a look at this Fashion Week guest and borrow her idea of slipping on a cropped turtleneck sweater instead.
Can one ever wear too much Gucci? The appropriate answer is no. Lean into the logo fashion trend by rocking pieces from your favorite label.
One immediate way for a pantsuit to come across as dynamic and bold is by opting for a set that comes in a punchy color like cyan.
If you don't know what to wear for fall, a simple striped knit dress over a pair of boots will solve that dressing dilemma for you.
Digital Director of Harper's Bazaar Nikki Ogunnaike kept it refined and dressy with her Gucci button-down shirt, blue jeans, and black loafers.
The next time you're debating whether to wear a skirt over pants, just do it like this street styler. The combination will make your outfit instantly more interesting.
Never deny the power of a velvet pantsuit set, especially if it comes in gorgeous blush pink hues.
You might've seen the Miu Miu briefs on the runway and thought, "how do I actually wear that IRL?" Well, this Fashion Week guest just showed you a way: style it with ultra low-rise pants then continue on with the sultry look via a skin-baring cardigan. Meanwhile, sneakers will help your ensemble feel more dressed down.
This Fashion Week showgoer stayed warm and comfortable in a vibrant green Missoni set.
Day 2
Jenny Walton, a fashion illustrator and influencer, wore the coveted Prada white tank top, a printed '50s skirt, and sleek black accessories.
See-through skirts were big on the streets of Milan. Here, a guest coordinated hers with a white T-shirt, a black leather jacket (to match the top panel of the skirt), and lime-green slingback pumps.
This showgoer looked cozy in a teddy-inspired ensemble.
Make a classic vest set look more relaxed by wearing it with a billowy, embroidered top and crisp, white shoes.
Here, a guest wore a color-coordinated ensemble with several pieces from Prada's Fall/Winter 2022 collection.
When it comes to fall fashion, this group showed that one can wear a skimpy cardigan just as well as a snug puffer coat.
This street styler walked on the wild side in a hot pink zebra print set.
Another guest played with the pink and green palette, too, in the form of a color-blocked look.
Here's an easy way to inject intrigue into your outfit: wear mismatched shoes on purpose.
Take color-coordination to a new level by matching your lipstick shade to your handbag, like here.
Day 1
There is, perhaps, nothing more chic than a thoughtfully layered look. Here, a guest wore a bomber jacket-style dress over a hoodie and patterned hosiery. For accessories, she sported slingback pumps, dark sunglasses, and a Diesel handbag.
A checkered blazer is classic. For the most fresh look, this showgoer wore hers with trendy cargo pants and pointed heels.
Shiny pieces can be styled subtly, as shown here. Rock your lustrous sweater with a matte, scarf-like skirt in the same hue for an elegant cool-girl look.
Dress down a preppy look by wearing socks with clunky clogs on your feet.
Metallics are so in style this season, if you couldn't tell already. (For further proof, just review the Vogue World show.)
This guest let her accessories lure the eye with their cheerful colors on an otherwise neutral look.
Instead of leaning into the much-loved monochrome trend, a showgoer perfectly color-coordinated her patterned separates and strappy sandals, and only broke up the synchrony with an electric-blue handbag.
The Canadian tuxedo can be what you make it. In this case, it's a full look of mismatched denim separates.
Wearing tights is an easy way to get the most wear out of your summer dresses. They can also make a look pop.
Rich neutrals, on the other hand, are so classic Milan. This street styler incorporated thoughtful bits of color by matching her blue-tinted sunglasses to her multicolored headscarf.
This article was originally published on