Here's How To Make Your Corporate Work Outfits Feel Less, Well, Corporate
Tip #1: You needn't wear black 24/7.
@argent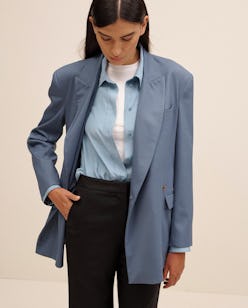 We may receive a portion of sales if you purchase a product through a link in this article.
For people who work at companies with strict dress codes, expressing personal style can feel difficult within the confines of professionalism. After all, many of fashion's most character-filled pieces (oh hey cowboy boots, clogs, coastal grandma dresses, and band tees) have no place in a strict 9-to-5 uniform of slacks and a jacket. However, there are several ways in which anyone can express themselves through clothes in a traditional corporate office — it simply takes a little finessing. You can start by wearing unique and elegant accessories that enhance an outfit, like a pair of Completedworks pearl drop earrings or perhaps a vintage watch gifted to you by your grandmother. These small touches can make tailored separates feel more personalized and cool.
On a similar note, being open-minded with your color palette can instantly zhuzh up the most staid of silhouettes. "All neutrals such as whites, creams, tans, light browns, and light grays are safe [for more buttoned-up office settings] in my opinion," says Emily Bell to TZR, director of client development, financial services at RGP. She works for a consulting firm and often veers between dressing for business casual and business formal situations. As a hobby, she runs a TikTok account packed with fun corporate dressing advice, making her an excellent source for styling suggestions. "For the fall/winter I like to wear burgundy and hunter green. In the summer, I like pastels like a sage green or a light yellow," she notes. Prefer more subdued and moody shades? Shelby Goldfaden, director of merchandising at M.M.LaFleur, says to try navy, olive, camel, cream, wine, and brown instead. "They all add dimension to your look, but read as neutral in an environment with a stricter dress code," she says.
These nuggets of expert advice are just the tip of the iceberg. Read ahead for the full run down on how to incorporate your personality into more serious 9-to-5 workwear pieces. Once you've mastered the styling tricks, getting dressed for the office will feel less like a chore and more like a creative experiment.
Play With Color
Most people associate strict office dress codes with wearing one specific color: black. However, there is room to dial back on the dark hue. Sali Christeson, founder and CEO of Argent, cites ash gray and camel as two worthy alternatives. "They are still neutral and chic, but provide a touch of freshness and versatility," says Christeson, whose fashion label is known for its suiting selections for women and powerful clientele, including Kamala Harris, Hillary Clinton, and Huma Abedin. "These colors can easily pair with any accessory and add a bit of boldness, without straying too far from the traditional dress code."
For instance: Depending on your comfort level, you can opt for an all-gray linen suit in the summer instead of classic black. Or, you can start small by change the color of your top or dress underneath your blazer — think a navy button-down shirt instead of a white or a toffee-colored shift in lieu of an LBD. When it comes to suits specifically, Elizabeth Giardina, the creative director for Another Tomorrow, says you don't need to match your jacket to your pants. "Playing with color combinations can make this more interesting," she explains. In other words, a chocolate brown blazer with black slacks is a do.
The best way to switch up your color schemes, according to Goldfaden, is to take a peek into your wardrobe and see what you already own. "This can determine the bright shades that will make you feel your best and pack more punch in your outfits," she advises. If you love cool neutrals like navy and gray, you'll light up the room in a cool pastel like iris. If all your favorite pieces come in camel and brown, you'll appreciate warm, orangey hues like guava."
Rethink Your Accessories
"Accessories can often feel like an afterthought, but you might find that choosing these first can bring a lot of fun back to planning your look," says Goldfaden. "Instead of wearing your dress as is, add on a thick, textured belt like this Beebe one — or rather than relying on your usual black [pumps], try something in a snakeskin print." Additionally, switching up your work tote can reinvigorate your daily 9-to-5 look. Trade in your usual laptop bag for a soft suede option like Banana Republic's viral Vida carryall or go for a more colorful leather tote like this green Mansur Gavriel piece.
For Giardina thinks wearing unique or personal jewelry can also be a good way to set a corporate outfit apart. Bell tells TZR that earrings are her favorite way to add dimension into her office looks, and make them feel more special. "My favorites are the Pearl Drop earrings from Mejuri and the Solid Chunky Teardrop Hoops from Adina Eden," she shares.
Experiment With Beauty Looks
An unexpected way to bypass a strict dress code in the office is to focus your attention on the category of beauty. Bell has several suggestions that may make you look forward to getting ready, even if you're not thrilled about wearing something that's not jeans. "I love to change up my perfume depending on the outfit or season," she says. "I'll pair a light floral fragrance with a spring dress [of the same motif] and with a heavy winter blazer outfit, I'll pair it with a vanilla amber scent." Because different scents can evoke memories and emotions — and perhaps even make you feel more confident — they can be a good "accessory" to your corporate attire. Hair, too, can affect your overall appearance. "I like to wear my hair up with pantsuits, but you can also try a half-up half-down [style], a ponytail, a French twist," Bell shares.
You can play with wearing different lip colors and mani/pedi looks as well. "I think a unique manicure is the perfect way to make your outfit feel more fun," Bell says. "With a strict dress code, I try to avoid long nails and designs, but I've been loving the press on manicures from OPI. They take about 10 minutes to put on and have really fun colors like throw me a kiss (a light pink with a sheen) or linger over coffee (a rich brown)."
Incorporate Texture
When your outfit is feeling a little flat and you don't know what exactly is missing, it could be that the look just needs some visual variety. Bell suggests opting for a tweed blazer instead of your go-to wool one or putting a silky button-down blouse underneath your suit set instead of a crisp cotton shirt. Mixing different fabrics, prints, or even details like ruffles into your outfit adds dimensionality to your work look.
"The next time you're deciding which top to wear with your pants, choose the one with the sculptural sleeves or a chic plaid pattern," says Goldfaden. "You might choose a patterned blazer (like our O'Hara blazer in Windowpane print) to throw on over your favorite navy sheath, or layer a turtleneck under a sleeveless dress to add texture, and transition a warm-weather style into the cooler months."
Mix & Match Your Separates
A hybrid work environment is the professional norm these days, and this has undoubtedly impacted the workwear world. Shoppers will always need a good pantsuit, shift dress, or tailored pants, but how they style these pieces have changed.
"There are many C-suite professionals whose work uniform relies heavily on traditional tailoring and who wear pantsuits to the office most days," says Christeson. "However, office life looks very different across industries, especially in the past few years. Executives are working on hybrid schedules, traveling often for business, or presenting panels/keynotes for wider audiences where there's a bit more room to incorporate denim, knitwear, dresses, and bolder pieces that spotlight individuality." She adds that she sees many women gravitate towards a blended-separates approach, like the combination of jeans and a blazer. (Even Vice President Harris has leaned on this combo while at work events. So, take this as a sign to give it a try, too, if you're in a more low key meeting.)
Goldfaden echoes a similar sentiment, sharing that M.M.LaFleur's customers have expressed the need to dress for a more flexible office setting. "They may move through multiple formalities every day (from a breakfast meeting to client presentation)," she says. "Jackets and blazers make it easy to flex between these environments, as you can throw one on to make your outfit more formal or remove it to go more casual."
For easy an way to switch up your wardrobe staples, Giardina points to wearing a dress or full skirt with a blazer. "Mixing fluid dressing back to tailoring can be surprising and refreshing. I love our Fall 2023 ribbed knit flare dress paired back to our [more structured] jacket because the dress has a lot of volume and this adds unexpected movement underneath it," she says.