Reinvent Your Whole Wardrobe With These Jewelry Staples
They make everything chicer.
@mimixn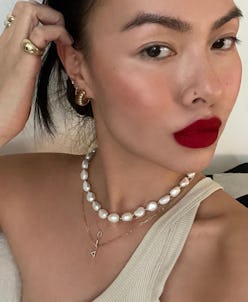 We may receive a portion of sales if you purchase a product through a link in this article.
You've likely heard this a million times: Certain essentials, like a black blazer, blue jeans, or a white tee, are fundamental building blocks in a well-rounded closet. But building a capsule jewelry wardrobe can sometimes feel a little less straightforward. Do you need diamond studs or hoop earrings more? A tennis necklace or a tennis bracelet? Chokers or pendants? To get to the bottom of these pressing queries, TZR tapped several designers for their thoughts on the pieces everyone should own — and why.
For Monica Rich Kosann, founder of her self-named fine jewelry label, a simple gold or silver chain (depending on your metal preference) is a non-negotiable. "It can, when worn alone or in tandem [with other pieces], take you from day to night, create a statement, or simply blend in," Rich Kosann tells TZR, professing her love for the style. "A good chain is hard to find ... when you do, it will be your go-to." She also — along with fellow designer Jennifer Fisher, a favorite of countless celebrities — feels that having simple rings you can mix-and-match at leisure is of equal importance.
A key point to remember when shopping: "classic" jewelry, like the aforementioned styles, are basics but not boring. There are so many designers making ageless staples feel modern and cool without taking away their old school charm. Morgan Solomon of AGMES, a brand known for its sculptural pearl creations, is one of those creatives. "I design with an interest in finding essential, timeless forms so pieces will be simple and transitional, but always distinctive," says Solomon, nodding to options like her Wave ring and pearl studs. "It makes all the difference when you have a piece you can constantly [wear] every day."
Of course, a core rotation of certain rings, necklaces, and bracelets that embody your personal style will be the ones you treasure (and wear) the most. But the enduring designs ahead — all insider-approved — are versatile enough to work with any fashion sensibility. Scroll down to stock up.
Hoop Earrings
The perfect counterpart to a sleek bun, low ponytail, or pulled-back hair in general, hoop earrings rarely fail to look elegant. "They come to mind as essentials because they're beautiful, easy pieces I can see, enjoy, and transition into the most special occasions," says Solomon. Better still, because the accent comes in so many shapes and sizes, it's easy to find one that suits your specific preferences.
Gold Layering Chains
For many, a simple gilded chain necklace, be it delicate or chunky, is a daily must as it can be worn alone or layered among other complementary options.
A Tennis Bracelet
Although this one has become quite trendy in recent years, the item is likely to stay relevent for a long time. After all, the idea of a tennis bracelet, which was invented by American tennis player Chris Evert in 1978, has already been around for 45 years. "A bit of bling on your wrist is always good," Rich Kosann says, referring to her own label's MRK x Chris Evert design.
Pearl Drop Earrings
The beauty of pearl drop earrings is that they can dress up understated silhouettes, like a turtleneck sweater and trousers — and, just as easily, make a statement with a special occasion look. You'll see that no two designs in this area are alike as some brands work with smooth freshwater gems while others prefer irregularly shaped pearls. Whichever path you choose, though, make sure the baubles dangle to some degree from your ears for a bit of movement.
More Than A Few Rings
There are plenty of rings available on the market today, but a simple band is the ideal place to start your stacking journey. "I love to invest in jewelry the way I invest in a capsule collection for clothes," Jennifer Fisher tells TZR. "In terms of a classic ring [for me] a pinky ring is always nice." Rings can stay on indefinitely (if they are tarnish proof), or be interchanged throughout the week to define a look.
Simple Studs
Should you want something that feels polished but can be worn casually, these little beauties are the way to go. Less cumbersome than their dangly counterparts, these take up just enough space on your ears to call attention to your face. The shopping options are endless out there, but TZR recommends beginning with diamonds and pearls.