The 2000s Called & They Want You To Wear Crystal Embellished Denim
@tash_ps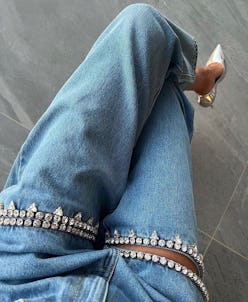 We may receive a portion of sales if you purchase a product through a link in this article.
Look, I love cold weather dressing as much as any other fashion girl in New York City. But at this point in the season, my tank for more winter outfit ideas is almost empty. That said, I'm nothing if not someone who loves rediscovering different ways to rework my wardrobe — and mindfully building on what I already have. So the other night I took to Instagram for inspiration, and stumbled upon something I could buy now to make my February layers more exciting: crystal embellished denim.
While the Y2K-approved look has been on hiatus for awhile, it's back in full force for 2023. This time, however, instead of leaning into gaudy back pockets, designers are taking a more refined approach. This past NYFW Fall/Winter 2023, the brand PatBo showcased handsewn bejeweled blues on the runway; meanwhile, downtown cool label Area has earned a reputation for reworking jean pieces with some major sparkle. The timing of all this feels right: Yesterday, Paris Hilton announced that she plans to open a House of Y2K Pop Up in LA, further solidifying that aughts nostalgia isn't going away any time soon. Just check out TikTok, where the hashtag #y2kfashion has been used a breathtaking 1.4 billion times.
The thing I love most about this trend (other than the pure unadulterated joy that comes with paying homage to the early 2000s) is that even though it may seem dreamy and imaginative, it is actually wearable, and not just for a night out on the town. I plan to style it minimally with sneakers, my favorite white cropped T-shirt, and a grey chunky cardigan.
Ahead, shop my most coveted crystal denim styles. They will, in the words of Rihanna, make you "shine bright like a diamond."