Skeptical About The Socks & Sandals Look? These Outfits Will Change Your Mind
@annejohannsen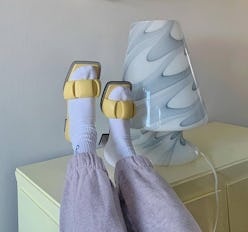 We may receive a portion of sales if you purchase a product through a link in this article.
When you're in a rush, having an easy look you can throw on without thinking makes all the difference. In fact, you likely already have some version of this, be it an oversized hoodie with workout leggings or your running-to-the-bodega sandals and socks pairing. Ease aside, this latter combination has quickly also become part of the cool-girl uniform — and trust us, the latest influencer-approved socks and sandals outfits on IG are surprisingly cute and comfy. And given the weather is still a bit too nippy for open-toe silhouettes, there's no time like the present to dip your toes — yes, pun intended— into the outfit idea.
First things first, you may want to refresh your sock drawer before diving into the look because, don't take this the wrong way, your lived-in white (now gray) gym socks won't be the chicest complement with your elevated strappy sandals. As an alternative, stock up on hosiery in playful colors and prints, like a hot pink pair or striped pattern. As for your sandals, the world is your oyster. Are you a sporty Teva type of person? That style works wonderfully with any type of sock. Perhaps you're drawn to delicate strappy silhouettes? The shoes will look great with semi-sheer socks versus a chunky wool option.
If you need a bit of styling inspiration to get you started, check out the seven socks and sandals outfits ahead for guidance. You'll see that you needn't compromise on personal style to pull off the look.
Fun & Fuzzy
Let's be honest: No one ever really looks forward to abandoning their toasty house slippers for actual outdoor shoes. Luckily, you can still get that same cozy feel with a pair of fuzzy slides and socks. To spice up the look, go for an elevated button-down and quirky crochet top.
Party Time
Socks out on the town? You bet. Pair them with strappy sandals and a sparkly miniskirt, and you have an unexpected going-out look, as exhibited by influencer Sandra Heinrich Sauceda.
Cue The Color
An easy way to dial up a neutral outfit's cool factor is by throwing bold accessories into the mix, like bright blue socks and a slime green bag. As for shoes, try a pair of versatile fisherman sandals.
Easy Breezy
Socks at the beach sounds counterintuitive, but a thin layer of fabric is a smart way to keep your toes from burning, be it from the sun or sand. Add your favorite slides and a breezy dress to the mix for the ultimate off-duty summer outfit.
Bright Idea
Teaming two colors on opposite sides of the color wheel, like bright green and hot pink, yields a striking result. Top things off with your open-toe footwear of choice — perhaps chunky sandals or clear wedges? There's no wrong answer here.
Camp Cool
Going on a summer camping — or, better yet, glamping — trip? Don't forget your trusty wool socks and cushiony platform shoes as the temperatures tend to drop in the early mornings and late nights. In particular, the look above is a great example of how you can take your open-toe summer footwear into fall territory. (Hey, it's never too early to start planning out your autumnal outfits!)
Come On, Barbie
The upcoming Barbie movie may have inspired you to slip on a version of the doll's signature platform shoes. If that's the case, make your your sky-high heels a little more comfortable with the addition of socks. Enhance the flirty pairing with a pastel pink blazer and matching shorts.