I've Fallen In Love With Asymmetrical Dresses & These Are My Favorites
@rocky_barnes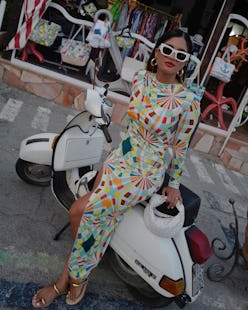 We may receive a portion of sales if you purchase a product through a link in this article.
If there's one article of clothing I don't hesitate to spend money on every summer, it's a nice dress. Be it a silky designer slip or a cottagecore floral frock, the silhouette brings a sense of ease to my warm-weather wardrobe. This season, I am specifically on the hunt for asymmetrical dresses. Why? To put it simply: I don't own any pieces that fit this description. As a fashion editor, I feel slightly embarrassed to admit there are holes in my wardrobe and this happens to be one I want to fill. Luckily, a quick search for this style on any retailer brings up tons of shopping options, making it easy for me to secure my favorite pick before June 21 — aka, the first official day of summer — arrives.
For anyone that needs convincing that asymmetric dresses are trending this season, simply look to the runways. Coperni, Missoni, and Eckhaus Latta all leaned into the uneven designs for their Spring/Summer 2023 collections. Whether it be a slashed hemline, a diagonal neckline that draws attention to your collar bones, or a combination of both, a purposely off-kilter cut is poised to take over everyone's wardrobes once the weather hits 75 degrees — or the high 60s, if that's your threshold for baring the legs. (I, for one, am team 75 or higher.)
Check out the designs on my wishlist below. I've found options for every activity on my schedule, from date night to weddings, which hopefully will give you ideas on where and how you might wear the same styles.
For Date Night
Dressing up for a night out in the winter is hard (I always find myself in fleece-lined leggings and a sweater), so once the weather warms up, I'm shedding the layers for colorful and silky numbers. As you can see from my picks, I'm into baby blue for spring. Since this hue happens to be in my personal color wheel, the purchase feels justified.
For Weekend Hangouts
My Saturdays and Sundays are for relaxing, so I don't want to overthink what to wear. The ideal asymmetric dress for me should be roomy and have some stretch, but still look put together.
For Special Occasions
For my upcoming summer weddings and vacations (send me recs for beach getaways, please!) I plan to look for an asymmetrical number that's a tad more fancy and resort-appropriate by paying attention to the prints and colors. A breezy, one-shoulder mini or a statement feathery frock should do the trick.