TZR's All-Encompassing List Of The Best Undergarments Out There
According to editors and industry insiders alike.
@doralarsenlingerie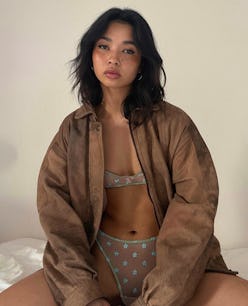 We may receive a portion of sales if you purchase a product through a link in this article.
Let's be honest: Shopping for undergarments, hosiery, or lingerie can be a real pain in the butt. You're either popping into the store to grab what you need and quickly dashing out (five panties for just $30? Deal!) or zooming in and out of an online product page, wondering how some sexy lacy demi cup bralette will fit you IRL. And let's not even get started on how hard it can be to find a decent pair of tights that won't run after two wears. To take the guesswork out of shopping for these types of essentials next time, TZR has polled several stylists, editors, and fashion tastemakers on their personal picks for the best lingerie styles out there — and between our panel's industry experiences and varied needs, you can be certain the selections meet very high standards.
Several fan-favorite brands like Commando, Skims, and Wolford are on this list, which speaks to their overall authority in the undergarments business. But if you're in the mood to discover new labels that are making waves in the space, we have plenty of those, too: luxe brand Julianna Rae, for example, offers the silkiest night gowns while Kye Intimates makes the cutest, minimalist bralettes and panties. Shop these options and more fan favorite picks ahead.
Best No-Show Thong
Fashion editors, celebrities, and stylists all vouch for the power of Commando's popular raw-cut thong in helping one avoid the dreaded VPL (visible panty line). "This thong is seamless and lightweight. It's a little expensive, but they're super nice," says Laurel Pantin, the fashion editor, writer, and tastemaker behind Earl Earl and Your Mom newsletters. If you're hesitant to throw down $24 for the panty though, she says check out Uniqlo as they offer similar, more budget-friendly options.
Best Full-Coverage Underwear
Polina Veksler and Alex Waldman founded size-inclusive brand Universal Standard in 2015, offering items from loungewear and pregnancy clothing to, of course, your everyday undergarments. For model and entrepreneur Lauren Chan, she swears by their UltimateS High Rise Brief for full booty coverage. "First of all, the underwear comes in sizes 00 to 40, so it fits everyone, and it has a generous gusset, so you're always fully covered," she says. "Secondly, it's made of a supersoft modal-cotton blend, but has a light elastic waistband so that it doesn't fall down, which is often a problem with super soft or seamless undies, in my experience."
Best Underwear To Be Seen In
One of the perks as a fashion editor is that I get to discover new brands 24/7, which is how I heard about Dora Larsen several years ago. Long story short, I immediately fell in love with the London-based line's romantic mesh bras and lacy underwear. They reminded me of the styles I saw in European department stores, but could never find back home in NYC. The designs are so lovely that I don't mind letting the entire world see them underneath my sheer dresses or peeking out from my button-down shirts.
Best Boyshorts
Shopping for boyshorts can be tricky as they can dig into your most sensitive regions or, if the material is thick, feel bulky beneath trousers. But Emprella gets the silhouette just right. New York-based stylist Altorrin shares that the company's underwear has become a go-to for many of his clients. "Its ability to disappear under the thinnest [clothing] material makes it a mainstay in my [styling] kit," he says.
Best T-shirt Bra
If you're on Instagram, you've likely been served a CUUP ad or two and, we have to say, the styles do indeed live up to the internet hype. In particular, BDG Accessories Editor Copelyn Bengel loves its Plunge Mesh Bra. "This is my favorite [option to wear underneath a] T-shirt as it keeps your natural shape and is slightly minimizing," she explains. "In addition to being super comfortable, it's prettier than most T-shirt bras due to the sheer mesh material."
Best Underwire Bra For Support
We don't blame you if upon hearing the words "underwire bra," you immediately associate it with discomfort — most styles could be described this way. However, our team has found the one design that won't leave you writhing in pain: the Soma's Scoop Balconette Bra, which Bengel says has smooth, unlined cups and no padding, offers all-day support without sacrificing any comfort. "It has thicker straps that give additional lift and the material is double lined to give an extra smooth look," she says. Some Soma customers say the fit runs small, though, so do your due diligence and order two sizes when you try it on.
Best No Underwire Bra For Support
Los Angeles-based label Anine Bing offers wardrobe essentials and investment pieces, which naturally includes a cute yet supportive bra. Stylist and creative consultant Caitlin Burke swears by the brand's Soft Cup Triangle style. "This was initially a last-minute [add to] cart addition, but it now has become my favorite bra," she says. "It is supportive, comfortable, and pretty enough to be shown underneath all of my sheer tops for spring."
Best Bra For Small Chests
As a member of the itty-bitty chest committee, I have always struggled with finding lightly padded, underwire bras that fit. After years of wearing ill-fitting styles, I tried on Pepper's Classic All You Bra and — not to be dramatic — my life was changed. The style actually accentuates my 34A cups and it's even comfortable enough to wear to sleep (I've taken many cat naps while still in this bra). The brand caters to small-chested gals, with sizing between 30AA to 40B, so you really can't go wrong with any silhouette — I own the strapless design, too, and it never falls down.
Best Bralette
Everything this New York-based go-to puts out, from its campaigns to product, looks so beautiful. Stylist and writer Michelle Li agrees with this sentiment, telling TZR, "I have a whole drawer of bras, but I actually only wear this one [below] until I need to do laundry. Araks has a really unique lace that is special, but still casual enough for everyday wear. Every season the colors are creative and sophisticated! I'm obsessed."
Best Silky Nightdress
Celebrity stylist and TV personality Cindy Conroy swears by hidden gem is Julianna Rae for her négligées. The lingerie label offers tanks, slips, and more in its signature mulberry silk fabric that can withstand repeated washings. "The Le Tresor Silk Long Gown comes in eight different colors and it's catnip for my nighttime routine," she says.
Best Corset Top
The lingerie fashion trend is still going strong for summer, so tap into the look by swapping your tee and jeans combo in favor of a sultry corset top with pants. TZR's Executive Editor Angela Melero has just the right pick for anyone who wants to try this look. "I'm not one to really wear sexy lingerie behind closed doors. But, I will wear it out in the open," she says. "Kat The Label's corsets, in particular, look great layered under a blazer or an oversized button-down blouse. They tuck nicely into denim and make me feel like a hot little ticket when I walk out the door."
Best Sexy Bodysuit
Although a bodysuit isn't always the most practical, the right one will make you feel like a million bucks. "I love a sexy bodysuit as much as the next person, but they often don't come with enough support to make me feel, well, sexy," shares Chan. "This version [below] from Victoria's Secret doesn't compromise on support or sexiness, thanks to its built-in bra and barely-there lace cutouts." Save this one-piece for the bedroom, or take it out for a spin to happy hour with your friends by layering it under a pair of leather pants and a jacket.
Prettiest Lingerie
As the saying goes, beauty is in the eye of the beholder, so everyone will have a differing opinion about what constitutes "pretty lingerie." Pantin's definition is found in the simplicity and clean lines of Kye Intimates' minimalist pieces, and TZR editors are inclined to agree with her.
Best Bridal Lingerie
Cult NYC label Fleur du Mal is a favorite amongst fashion girls who love stylish, wearable, and alluring underpinnings. "The plunge demi bra, thong, and garter are awash with delicate lilies that whisper bridal perfection," adds Conroy. "The pieces serve unique feminine flair, offers ample support and lift for the girls, and have a dare-to-bare elegance." Take note nontraditional brides: hould the classic white options not speak to you, the pieces also come in varying hues like emerald green and pansy purple.
Best Maternity Underwear
Mamas-to-be don't have the time to deal with ill-fitting garments while growing a human, so if you're on the hunt for a comfy pair of underwear that also looks pretty, Syrett has the right rec for you. "I started wearing this soft and seamless underwear when I was pregnant with my first daughter because the one-size-fits all cut beautifully molded to my changing body at every stage," she shares. "But honestly the fit is so comfortable, I've been loyal to them ever since."
Best Nursing Bra
You may already be familiar with Hatch's wide selection of functional and cute everyday maternity wear, but have you checked out its bra section? Pantin shares that the nursing/pumping combo option for the Skin to Skin bra was her favorite. "It's a game changer to not have to strap on a pumping bra every time you pump," the mother of two says.
Best No-Rip Everyday Tights
There's a reason why Wolford's name keeps popping up with the celebrity and fashion editor set: the brand simply makes the best hosiery. "Yes, I know these tights are expensive, but these are truly the only tights I've ever found that will survive the whole winter as glossy and run-free as they were when I bought them," Syrett says. "I still have and use pairs I bought five or six years ago — try saying that about drugstore hosiery!"
Best Shapewear
Several industry experts TZR spoke with named Skims as their favorite for shapewear. "I recommend the brand to all my clients and they're immediately converted, even those who claim they hate shapewear have made the switch," says Burke. "They're so comfortable, yet suck you in in all the right places — my even posture better feels better when I wear them." The tastemaker loves the label's Seamless Sculpt line in particular. Stylist Altorrin also agrees with Burke, adding, "when it comes to a trusted brand of shapewear, Skims is top tier. The compression is strong while still maintaining a clean and appealing aesthetic."