COS's New Atelier Collection Offers A Path To Capsule Wardrobe Nirvana
Whether you buy one piece, or all of them.
courtesy of COS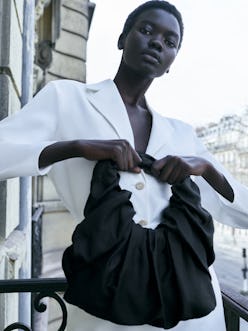 We may receive a portion of sales if you purchase a product through a link in this article.
These are boom times for basics. Prada is sending plain white shirting down the runway; Gwyneth Paltrow is making headlines while swathed in buttery cream cashmere; and the internet can't stop dissecting the idea of quiet luxury, and how to achieve it with the right mix of luxe classic styles. But over at beloved London-based chain COS, sophisticated and supremely wearable staples have been essential to the brand's core ethos from day one. So when it came time to create its second atelier collection — a detail-focused line of mix-and-matchable staples — the company had the home court advantage of knowing exactly how to approach the trend.
"There is a lot of research, testing, and trials to come up with these fairly understated ideas," COS Creative Director Karin Gustafsson tells me the day before the atelier pieces debuted at the label's first-ever show in Paris on April 26. She explains to me that the difference between this very focused body of work and the main offerings in store is a laser-focused attention to small, thoughtful extras and overall craftsmanship. There are hidden elastic bands for adjusting the waistbands of tailored pants, and the button-down designs come with subtle little loops in the back for hang drying. I'm even promised (much to my astonishment) that one long, gorgeously draped blouse is made from fabric that will stay "that crisp and clean" without the help of an iron. "'[The collection] is rooted in all of this exploration and research into couture."
After a few years of chaotic and flashy (and often confusing) "aesthetics" monopolizing the fashion conversation, the timeless offerings Gustafsson show me feel like the ultimate palette cleanser for my haphazard, post-2020 closet. It's something one could use to rebuild their wardrobe from the ground up — or, at the very least offer quite the elegant anchor to a rhinestone-crusted impulse buy that still has yet to be worn. It also, the creative director points out, lays out the blueprint to a very sustainable way of dressing.
"When we purchase something we consider how long we want to keep it," she says, noting that the atelier sub-label is meant to transcend fashion crazes. "It's about longevity."
It's also about versatility. Having pieces like these at your disposal, that are simple but never boring, means you can be nimble when you need a quick way to complete a partially conceptualized look. "The pieces can really take you from the morning to the evening, and are combinable and changeable," Gustafsson continues. She tells me the point isn't so much to have statement pieces, but pieces you can turn into a statement if that's what you're looking for. "It is obviously investing in the wardrobe staples, so you have your foundation: the shirt, and the men's inspired pants, and the tailored jacket," she explains. "But then you can mix it up with a few highlights. You can also accessorize yourself with jewelry and so on."
Perhaps the COS design team had this in mind when creating the shoes for the atelier, which include a delicate slipper made from lightly ruched silver fabric worn by a majority of models at the presentation. They're the type of footwear that, on paper, might sound a little tough to pull off. Yet set against the streamlined tailoring and fluid, flowing dresses of the ready-to-wear, the subtle touch of metallic was just surprising enough to make every look, really sing. Translation? You needn't give up a bit of sparkle just because that's where the fashion tides are turning — it'll look just as good, maybe better, against the right neutrals. As Gustafsson puts it: "You can change your look] up depending on how you feel and what personality you want to put across — that way of dressing, it can empower you."