I'm A Minimalist & Swear By These Understated Date Night Outfits
The only thing worse than a bad date is a bad date outfit.
@anoukyve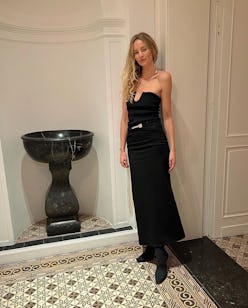 We may receive a portion of sales if you purchase a product through a link in this article.
It's been just over a year since my last relationship ended, which means that I'm in the midst of my single girl era. Things are a little bit different since I was last here: For starters, I'm now in my thirties — and with that, comes more experience and knowledge of what I want (and what I don't want). I try to keep my romantic life much like my tightly edited wardrobe: simple and uncomplicated; neutral, but still interesting. So it will come as little surprise that I prefer minimalist date night outfits.
I've always been the kind of person who can pull something out of the closet that I've worn a zillion times and style it in a way that makes it feel new again. I purchase each new piece with the intent to use it multiple ways — and I certainly don't change up my look just because I'm going out with a new person. I'm just trying to build a closet that transcends seasons and time. And while I'd love to approach dating with the same mindset, my friends keep telling me that it's a numbers game: The more I go on, the better off I will be. "It's good practice," they tell me.
While I continue to grapple with this dichotomy — buying clothes for forever, trying partners on for size — I can also acknowledge that there is something exciting entering this new chapter. I know myself and my style better than I ever have before, and this is the ultimate opportunity to wear my timeless clothes in fresh ways. Maybe if I'm lucky, I'll meet someone who will also be around for more than one season. But in the meantime, I'm embracing these four understated outfits, all ideal for evenings out, ahead.
The Blazer Dress
The best part about being a minimalist is that you most likely already have an oversized blazer— you just haven't thought about wearing it as a dress (yet). Throw on your favorite thin belt to cinch the waist and you're good to go. Pro tip: Order a style a few sizes larger than usual to ensure the length works.
Baggy Denim
To me, the easiest and most comfortable item in my wardrobe is a pair of baggy jeans. Dress them casually during the daytime or for a night out with a sexy tank, kitten heels, and a sculptural bag.
The Going Out Top
I love the way a simple top with an interesting neckline can completely transform a regular pantsuit. Balance the look by pairing a fitted tank with looser bottoms and a tailored jacket.
The Maxi Skirt
We're very into maxi skirts around here. I just snagged this one below from Khaite and I cannot wait to wear it over and over again. Pair with a classic tall black boot, a knit tube top, and your favorite thin belt.