These NYFW Celebrity Moments Serve As The Ultimate Fall Beauty Checklist
Gilbert Flores/WWD/Getty Images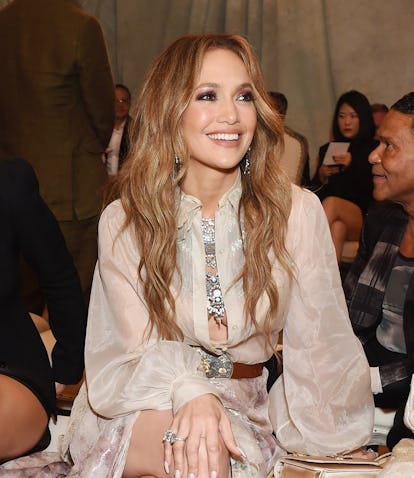 Given all the celebrity-filled events, runway presentations, and all-night brand parties, it's hard to believe that Fashion Week already began days ago — but all the most hotly-anticipated moments are still to come. But even among all that excitement, something is a bit different this year, and it's thanks to the overwhelming abundance of incredible A-list looks spotted around town already. This year, the celebrity beauty At New York Fashion Week Spring 2024 doesn't follow any sort of script and there's minimal trend-chasing — just several of the industries most stylish stars taking the opportunity to show off and experiment with creative hairstyles, glamorous makeup, and fun manicures.
The best looks of the week so far are happening beyond the front row, too. Many of the most exciting moments are happening on the sidewalks and at glittering parties thrown by brands and their celebrity muses. Already, fans are chattering about Jodie Turner-Smith's streak of incredible short hairstyles (her extra-edgy mullet is next-level), Gigi Hadid's cool-girl roots, and how Emily Ratajkowski brilliantly repurposed her signature summer makeup look for fall. While the fashion shows give a glimpse at what to expect come spring 2024, the stars are offering a first-hand look at what's hot right now — feel free to take notes.
Gabrielle Union
Union's pulled-back ballerina bun is prim and ladylike on its own — combine that with her incredible smoky eyeshadow and shimmery black nails at the Ralph Lauren show, and you have one of the best overall looks of Fashion Week.
Blake Lively
Over at Michael Kors, Lively brought back her tight disco curls as the ideal match to her gold beaded jumpsuit. Even her nails got in on the fun, a just-contrasting-enough shade of deep bronze.
Jennifer Lopez
There are so many noteworthy elements in Lopez's look from the Ralph Lauren presentation: her glistening highlights, the subtle purple eye makeup, her milky-white nails, and the fall-perfect matte lipstick to name but a few.
Ice Spice
The people's princess stepped out at the Who Decides War show in dressed-up versions of her everyday signatures. Her curly bob glossed to reflective perfection while the matte blush-glossy lips combination remains unmatched.
Amanda Seyfried
Keeping it classic and simple in a suit set with her brick-red lipstick the sole pop of color, Seyfried's firmly within her wheelhouse.
Jodie Turner-Smith
All Fashion Week long, Turner-Smith's been trading one cool-girl hairstyle for another. Even compared to her unreal Great Gatsby bob, though, this classic mullet, complete with short, spiky bangs, is one of her all-time best.
Mindy Kaling
Bewitching in head-to-toe black leather, it's Kaling's sharp flipped bob — styled by Marc Mena using True Botanicals products — that really makes her Ralph Lauren show look. She even off-sets some of the edge with a sweet candy-pink manicure.
Emma Roberts
Roberts' cozy look at the Khaite show is practically a fall beauty checklist: matte lipstick, a baby-sized cat-eye wing, and frosted blonde hair color are all present and all stunning.
Sofia Richie Grainge
The queen of quiet luxury is now the face of David Yurman, making an appearance at the brand's Fashion Week party dressed in a prim black gown and a thick Jennifer Behr headband.
Gigi Hadid
Hadid seems to hint that she's growing her platinum blonde out at the Victoria's Secret Tour party thanks to her slicked-down hairstyle — it helps show off the dark roots that are trending in and of themself right now.
Halle Bailey
With her glossy twists pulled high into an extra-voluminous ponytail, Bailey shows off her sleek sophistication. Of course, it's made even cooler by the vampy, dark-red lipstick and matching red-black ombré manicure.
Emily Ratajkowski
Some are firmly in fall by now, but Ratajkowski keeps it so summery with her (now signature) sunburnt blush and breezy curtain bangs.
Priyanka Chopra Jonas
Chopra Jonas is literally luminous in her jewel-covered dress at the Victoria's Secret party, but it's the reflective shine in her hair (and rose-toned lipstick, for that matter) that helps complete the halo effect — an angel indeed.
Lori Harvey
Consummate cool-girl Harvey is a master at combining the perfect hairstyles and outfits, a more complicated move than it may seem. For Victoria's Secret, she left her shoulder-length hair down and flowing, pumped up by voluminous barrel curls and a sultry side-part.
Charlize Theron
Not long after debuting a bold, choppy mullet, Theron returned to her laid-back roots with a sleek updo accented by a curtain long long, curled side-bangs. Her bright pink blush is the most cheerful pop of color while her nude nails show off her jewelry at the Breitling event.
Ashley Park
Feel free to squeal aloud — Park's look really is just that cute. To mach the bows on her glittering gold gown, she attached a black satin hair ribbon to her sleek updo. Paired with her smoky cat-eye makeup, it's night-out perfection.
Brooke Shields
Behold, a legend. Though her super-chic glasses ahem shield her famous brows, Shields' long, strawberry-blonde curls more than make up for it with their impressive shape and volume at the VS party.
Ava Phillippe
You're not the only one who just did a double-take — doesn't Phillippe look just like a tattoo'd version of her mother, Reese Witherspoon? She seemingly inherited her mom's timeless sense of style, pairing a bold red lip and nail color with her chain-trimmed dress at a Chanel event.
Rosé
With her icy blonde hair color, she might have to change her name to Frozé. The BLACKPINK superstar celebrated Rimowa at their Fashion Week event with her long, platinum hair ironed perfectly straight, and just a hint of rosy pink pigment on her lips.
Justine Skye
Skye loves a classic moment, and it doesn't get sweeter than her Clueless-esque look at the Kate Spade show. With her long curls, glossy lips, and timeless French manicure, she's like, totally flawless.
Indya Moore
As a face of YSL beauty, you already knew Moore was going to serve at the label's party. They didn't disappoint with rose-gold nails and a bright pink blush-lip combo.
Julia Fox
Is it even a night in New York if you don't catch a glimpse of Fox and one of her trademark zany-brilliant looks? For the Pandora party, she looked more like a neo-goth Rapunzel with long, jet-black hair flowing over her top-skirt set — zoom in, it's all made of actual watches.
This article was originally published on