Follow Emma Roberts' Lead — This Is The Coolest Way To Go Back To Your Natural Hair Color
It looks so casually glam.
Stephane Cardinale - Corbis/Corbis Entertainment/Getty Images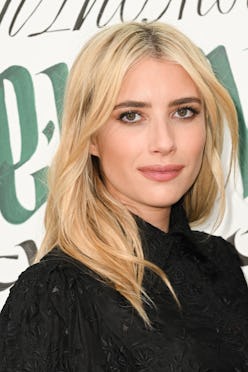 There's a very short list of American actors with European aesthetic sensibilities, and Emma Roberts is on it. She's always floating through events in whimsical gowns and skirts, pairing her outfits with sleek, sultry makeup, and lets her usually-blonde hair fall in relaxed waves on the red carpet. Her latest look, though, takes the hypothesis to the next level. You'll often hear French women remark that you can spot an American by just how well-maintained their highlights are, but Emma Roberts' dark-root ombré hair color makes her look like a true born-and-bred Parisienne.
While Roberts is still undoubtedly blonde, she appears to be going back to her naturally darker hair color by growing as much of her hair out as possible. Anyone who's had highlights for a while knows that the color grow-out process can be a little more complicated than just letting the passage of time do it's thing. No, it looks like Roberts is working a "root shadow" color technique that allows for non-blocky growth that seamlessly blends new, darker hair with the older artificial color just below it. The intentionally prominent dark root trend is one that's been bubbling just under the surface for several months now, but if anyone can take it mainstream, it's Roberts.
Roberts' strategically dark roots are a relatively new development. Her frosty baby-blonde shade went right up to the scalp with fresh color as recently as September 2022, but that looks like the last time she took blonde all the way to the hilt. By November, she had a smattering of dark brown roots that look far too smudged-out and blended to simply be vertical growth alone. The root shadow concept is pretty simple — by manually darkening the roots, you can allow color to fade and grow out without such a stark contrast between new and old — but it's downright game-changing for those looking to break up with lighter hair. Compare these shots of Roberts taken just weeks apart:
Phillip Faraone/Getty Images Entertainment/Getty Images
Robin L Marshall/Getty Images Entertainment/Getty Images
Though it really took off in the 2020 pandemic when salons were largely shuttered, colorists have been employing root shadow techniques for years. It's already been experimented with by Kim Kardashian and Dua Lipa, expect to see plenty more grown-out roots on stylish celebrities throughout 2023.