Good Luck With Trying To Tell Reese Witherspoon & Ava Phillippe Apart In Their Outfits
@reesewitherspoon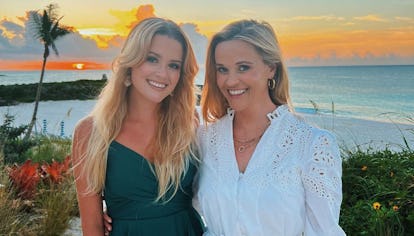 We may receive a portion of sales if you purchase a product through a link in this article.
Fact: The internet is fascinated with Hollywood mother and daughter lookalikes — think Cindy Crawford and Kaia Gerber, Beyoncé and Blue Ivy, and of course, Reese Witherspoon and Ava Phillippe. In fact, any time The Morning Show actor and her 23-year-old are pictured together, their fans lose it over their uncanny resemblance. Their latest social media post garnered a similar reaction online. On July 23, Witherspoon and Phillippe shared one of their best twinning moments to date. (Hint, hint: It'll have you do a double take.)
The award-winning actor posted pics alongside her daughter on Instagram, documenting their Sunday outing at Oceana's 16th Annual SeaChange Summer. "Perfect Summer night with my girl @avaphillippe 🌊 💗learning all about @oceana incredible conservation work 🌊 ✨🦈 #BiossancePartner," read the caption. The first snap is a selfie of the two prepping for the event in matching robes and matching wavy hairstyles, naturally. Should you want to recreate their glowy skin, the second slide shows the Biossance products needed to achieve the final results.
If you swipe to the last photo, you'll see the pair's outfits for the event; Witherspoon wore a minty green knee-length dress, while Phillippe went with a white pleated top and complementing trousers. Of course, both numbers boasted strapless silhouettes — because you didn't think they'd miss out on coordinating looks, too, did you? The duo did, however, style their ensembles differently: Witherspoon wore beige pumps, whereas her daughter accessorized with a black choker.
It's no surprise the Hollywood darling is following in her mother's fashionable footsteps, as Witherspoon often gives her sartorial advice. "If you match your shoes with the bag it automatically makes it a look," Phillippe told TZR back in April, when asked what style tips she's learned from her mama.
If you can't get enough of Witherspoon and Phillippe's latest matching look, snag the similar outfits below and twin with your own mom, sister, best friend... whoever!