Summer's Top Pedicure Trends Are Begging You To Dust Off Your Sandals
@greceghanem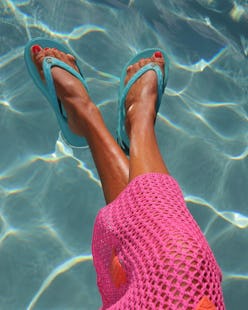 We may receive a portion of sales if you purchase a product through a link in this article.
It's official: summer is here and the events of the season are already in full swing. By now, you've probably built your go-to wardrobe, planned out your travel, and nailed down a few swimsuits to spend the next few months in. Along with the joys of lighthearted relaxing days spent soaking in the sun comes the excitement of summer beauty moments. Whether it's a new hair color or a bronzed and dewy makeup look, there's no denying the sheer pleasure of giving in to the season's best beauty trends. It's also the time of year when you get to decide on two nail polish shades — one for your manicure, the other your pedicure. Luckily, the choice will be easy thanks to the best summer 2023 pedicure color trends.
While spring may have been the season of the 'soft girl' aesthetic, this summer's bold and bright colors fit for Barbie herself will reign supreme. However, that doesn't mean neutrals are completely out. As Liana Thomson, nail expert at Nails.co.uk, tells TZR, this season, the quiet luxury nail trend that has been sweeping the internet as of late will also be extending to pedicures.
As you're headed to the salon and contemplating what kind of pedicure best fits your vibe this season, why not consider trying a new shade? Ahead, TZR spoke with three celebrity manicurists and nail experts for insight on what colors are trending this summer.
Understated Elegance Reigns
On the heels of Sophia Richie's viral wedding and Kylie Jenner's classically chic fits she wore while darting around in Paris, the quiet luxury nail look has risen to the top of the season's pedicure trends. "This style embraces a lot of sartorial elements such as clean lines and simple silhouettes that can easily be replicated in pedicure designs," says Thomson. Think creamy, neutral color palettes that effortlessly exude luxury without feeling gaudy or over the top.
Barbie Pink For The Win
The influence of this summer's Barbie movie knows no boundaries, so you can expect to see freshly-polished pink toes all season long. "Pinks of all shades are a must for summer; if you don't love the super bright versions try opting for something a tad cooler like Essie's shade In The You-Niverse," says celebrity nail artist Mo Qin. Much like Barbie, her suggestions range from bubblegum-hued polishes to energized neon tones. "Despite being based on a single color, there's a lot of room to play around here," says Qin.
Mermaidcore
Similarly, mermaidcore is also seeing an increasing wave (pun intended) of popularity this season thanks to Disney's The Little Mermaid. The fantasy and allure of deep sea colors have been trending all over social media, so the nail trend comes with little surprise. Yet seeing these shades pop up on pedicures feels right on time for summer.
Luckily, there are a few shades you can reach for to get this look at home. To kick things off, Nailing Hollywood artist San Sung Kim suggests starting with Orly's Give It A Swirl — a fresh minty blue that fits perfectly with this water-themed trend.
Vivid Beachy Oranges
It just wouldn't be summer without at least one bright pedicure. But this year, Thomson assures that the vibe is more beach vacation than sunny days in the park. She tells TZR, that in terms of color, orange is among the most popular this summer. "The shade has the unique ability to bring out the warm tones in your skin making it a favorable choice for a range of skin tones," she says.
Her top pick for achieving this look is OPI's Silicon Valley Girl, a celebrity-favorite shade that was famously worn by Lizzo on the red carpet at this year's Grammy Awards.
Milky French Manicures
With a similar subtleness as the quiet luxury nail trend, French pedicures will also be a strong contender this season. According to Thomson the classic manicure style is receiving a minimalist makeover with milky nail colors. "Consider merging the barely-there look of a French pedicure with cloud-colored polish shades or sheer opaque pinks for a modern update," she says.
Classic Reds Will Be Strong
There's no denying the appeal of a classic red manicure or pedicure, especially when worn with a matching lipstick. Qin tells TZR that reds will always be a strong choice regardless of the season. But for summer 2023, she recommends looking to beloved lipstick shades, like Pirate by Chanel or Rouge 999 by Dior as inspiration for your toes.