It's The Perfect Time To Visit Sicily
Here's how to explore the region like a local.
@fstaormina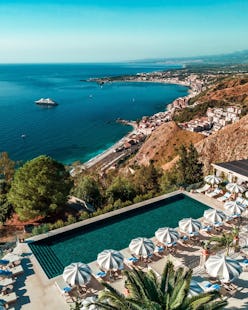 With unspoiled beaches, ancient ruins, posh seaside resorts, a smoking volcano, and some of the country's most decadent food — hello, cannoli and arancini! — Sicily captures our collective imagination. At once refreshingly authentic and off the beaten path, yet full of world-renowned restaurants and five-star boutique hotels, it might just be the top destination in all of Italy.
Now, a certain HBO show has kicked our wanderlust into overdrive — and we can't stop daydreaming about planning the ultimate getaway to this fiercely independent region. The largest island in the Mediterranean, Sicily has been ruled and shaped by history's most powerful cultures, from the Phoenicians and Arabs to the Greeks and Normans, all of whom left an indelible mark.
"Sicily arguably has more layers of history than anywhere in the Mediterranean, except maybe Israel," says Gary Portuesi, co-managing partner of Authentic Explorations. The son of Sicilian immigrants, Portuesi has spent the last two decades sharing the best of Sicily with Americans. "Sicily has the most UNESCO Heritage Sites of any other Italian region. In one day, I can take you to see Greek temples, Roman mosaics, Byzantine churches, Arab mosques, and Norman castles."
To make the most of your visit, Portuesi recommends beginning in the vibrant capital of Palermo and hiring a driver to take you counter-clockwise around the island, ultimately flying out of Catania. All together, a well-paced trip should take 10 to 12 days, leaving plenty of time for indulgent meals, wine tastings, and lazy afternoons at picture-perfect beaches. Here's how to get started.
Palermo
Sicily's capital and largest city, Palermo provides a glimpse into the island's diverse past thanks to its rich melting pot of architectural styles. Watch a dazzling performance at Italy's largest opera house Teatro Massimo, browse art in a 15th century palazzo at Galleria d'Arte Moderna, and admire the brilliant golden interior of the famed Palatine Chapel. Portuesi also recommends visiting a private palace. "A few have become public museums, but we like to go to the more intimate ones where the princes and princesses will let us in — for a fee of course — and we can hold dinners for our clients. One of the most luxurious is Palazzo Valguarnera-Gangi."
While not every meal will be so opulent, you can still expect to eat well during your stay. Katie Parla, a New York Times bestselling author whose latest cookbook is Food of the Italian Islands, crowns Palermo as Sicily's number one food city. "There's a vast array of on-the-go options at fry shops, bakeries, and cafes where you can enjoy the same things people have at home, like baked pasta and eggplant," she says. "I love all the delicious street food and incredible markets like Capo and Ballarò where people grill meat, fry panelle (Sicilian chickpea fritters), and serve arancini and potato croquettes." For an elegant but unfussy dinner, Parla's two go-to spots are Corona Trattoria and Ristorante Quattro Mani, which specializes in whole roasted fish and pastas studded with fresh herbs from the island.
If you care to take a little bit of Sicily's food culture home with you, Parla suggests stopping by Luigi Guidera, an unassuming shop stocked with local cookware. "They sell metal tubes for cannoli and these handmade marzipan molds so you can make frutta martorana, the traditional Sicilian sweets that look like fruit."
Where to Stay: Portuesi has his clients book one of two hotels: Grand Hotel et Des Palmes in Palermo's historic center, or Villa Igiea, a Rocco Forte Hotel. "It's probably the best in all of Palermo," he says.
Agrigento
Rather than the Roman ruins found throughout much of Italy, Sicily offers travelers something a little different: ancient Greek architecture from as early as the 8th century BC that rivals the buildings of Athens and Corinth. One undeniable highlight is the Valley of the Temples in Agrigento, a UNESCO World Heritage site boasting eight Greek temples and ruins. "The most iconic one is the Temple of Concordia," says Portuesi. "It's perfectly intact."
If all that sightseeing makes you hungry, drop by Kalos in Agrigento's historic center, and Enoteca 'Nzolia for a nightcap. "It's an adorable bar that has an excellent selection of Sicilian wines," says Portuesi.
Where to Stay: Located Within the Valley of the Temples, five-star Villa Athena is the place to be. "Most of the rooms have uninterrupted views of the Temple of Concordia, which is a stone's throw away and illuminated at night. It's the most magical thing on the planet." Don't skip dinner at the hotel's Terrazza Degli Dei, which showcases equally spectacular scenery.
Southeast Sicily
Southeast Sicily has become a design darling of the island, celebrated for its charming UNESCO World Heritages towns of Noto, Modica, and Ragusa. Destroyed by an earthquake in the late 1600s while the Spanish ruled the island, all three were rebuilt from the ground up, and stand today as gorgeous examples of late Baroque art and architecture. Noto is famous for another reason: Its bakery, Caffè Sicilia, was featured on Chef's Table. According to Parla, its Sicilian sweets like cannoli, gelati, and granita live up to the hype. "When I go to the Southeast, I make sure that I'm at Caffè Sicilia every day for breakfast," says Parla. "It's the best pastry shop in the world." You can also buy pistachios and pistachio spread there to bring home as a souvenir. "Their intensity and flavor is superior to anything I've ever encountered."
Nearby Ragusa is equally well-known for its food. "I don't usually love Michelin star dining in Italy, but I think Ragusa has two of the region's best restaurants," says Portesui. "Locanda Don Serafino in particular is extraordinary because it's inside of a cave, and the ambiance is just unbeatable. Duomo is also exceptional." Meanwhile, Modica has built a reputation on its chocolate and sweets. Antica Dolceria Bonajuto, the oldest chocolate shop in Sicily, offers tours and tastings. Parla also suggests Caffe Adamo for the town's top coffee and ricotta-based pastries.
Where to Stay: "Noto has several incredible jewels of hotels," says Portuesi. "One called Seven Rooms is actually in an old palace. It's exquisite." Portuesi also likes Q92 (another property located in a converted 17th-century Baroque palace), as well as Il San Corrado di Noto and Country House Villadorata, which are found in the countryside.
Mount Etna
The grand finale to any trip in Sicily must be Mount Etna, the highest and most active volcano in Europe. Portuesi sends guests on a guided excursion via Jeep that's able gain exclusive access to off-road smoking craters and new lava flows. "We send out clients with a volcanologist who is a history expert," says Portuesi. "You can simply see the beautiful views and take pictures, or get out and do a bit of hiking." Because of Mount Etna's fertile soil, the area hosts hundreds of vineyards, such as ​​Cottanera Winery. "In my opinion, it's one of the most interesting wine making regions of all of Italy, if not all of Europe. If you like Burgundies, then you will love the grape varietals that only grow on the slopes of Mount Etna."
The area's bars are equally impressive. "Vitis Vineria Bottega has an insane wine list," says Parla. "Especially if you're accustomed to New York prices, it feels like you're drinking these incredible Catarratto white wines and the Nerello Mascalese red wines with some age on them for free."Many people visiting Mount Etna stay in neighboring Taormina, Sicily's glitziest destination and home to the real White Lotus, San Domenico Palace, Taormina, A Four Seasons Hotel. Portuesi and Parla both warn that, like many tourist-driven towns, Taormina is not the best place for a memorable meal. "There is a place called Osteria Divino Rosso, which has awesome fish and great wine," says Parla. "But you're paying way more than you should for everything."
Where to Stay: If you choose to stay on the slopes of Mount Etna, Portuesi recommends Monaci delle Terre Nere, an authentic wine resort and working farm where you can enjoy onsite tastings. Travelers looking to experience the glamour of Taormina should book a room at Villa Sant'Andrea, A Belmond Hotel, Taormina Mare. "It's just below town, and has a private beach," says Portuesi. "When you want to go into Taormina, you can take a shuttle to their sister property, Grand Hotel Timeo, A Belmond Hotel, Taormina."
Worth a Detour
Western Sicily
Because the western side of Sicily outside Palermo lacks luxury properties, Portuesi recommends using the capital as your basecamp when venturing out to surrounding temples, vineyards, and other sites. First up is the nearby town of Monreale, where the towering UNESCO World Heritage cathedral ranks as one of the greatest existing examples of Norman architecture. "We love to take our clients on a private tour when it shuts down for the day, and surprise them with a private organ concerto," says Portuesi. Other popular day trips include Marsala's eponymous wineries, Cefalù's sandy beaches, Segesta and Selinunte's ancient archaeological parks, and Erice, a perfectly preserved medieval town.
Syracuse
History buffs may choose this city as their home in southeast Sicily rather than Noto, but it merits a stop even if you aren't staying overnight. According to Portuesi, "Syracuse is to Sicily what New York is to the New World." Once the largest and most important Sicilian center for the Greeks, don't miss the Archaeological Park, Syracuse Cathedral, and Island of Ortigia historic center.
Outer Islands
If you're able to tack on a few extra days to your vacation or have been to Sicily before, set your sights on Sicily's Aeolian Islands, some of Italy's greatest (and wildest) treasures. There are seven in total: Portuesi favors Salina where you'll discover Capofaro, a "storybook magical" resort with a winery and lighthouse. For an adventure that's further afield, look to Pantelleria, a remote volcanic island that's closer to Africa than Sicily. There, check into Sikelia and indulge in natural mud baths, yoga sessions, and fresh seafood. "This is the kind of place where Madonna decides she wants to get away from the world and buys out the property for her and her staff for a week."