Black Women Have Always Been At The Forefront Of Nail Art Trends
It's time to give credit where credit is due.
Ron Galella, Ltd./Ron Galella Collection via Getty Images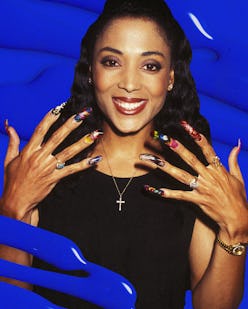 When PRISCAVera, the edgy fashion brand loved by "it-girls," sent long, square acrylic nails stacked high with ephemeral, 3D bubbles down its Spring/Summer 2023 runway, the media called it the "Euphoria Effect." And then there's Vivienne Westwood, whose runway models are known to wear manicures just as artistic as the late designer's clothes — the elaborate nails from her Spring/Summer 2023 collection were met with particular praise. Each nail came in different lengths ranging from medium to extra long, shapes from hard square to stiletto, and unique designs paying homage to glitter, hand painting, and textural gel sculpting. While these runway looks became the season's biggest nail trends, in reality, long, intricate nails have been popular among Black and Latinx women for decades. Although these manicure designs are often dismissed as the humdrum of a trend cycle, for the Black community, nails sit at a unique crossroads of race, gender, class, and immigration. This intersection reveals how Black culture and nail artists have transformed the nail experience — often without acknowledgment.
While recent cultural shifts reflected online and on runways seemingly make room for these styles in the ideal beauty sphere, Black women who wear these looks aren't always met with the same acclaim. Take sprinter and Olympic hopeful, Sha'Carri Richardson, for example. She reached overnight acclaim and simultaneous judgment in 2021 when critics used her penchant for wearing long, bejeweled acrylics as confirmation of rule-defying drug use and ineligibility.
This negative association between nail art and Black women, particularly Black women in power, is nothing new. It's perhaps best demonstrated by Florence Griffith-Joyner's similar Olympic tale of record-breaking success at the 1988 Olympic trials and Summer Games that was nearly overshadowed by public disdain for her ornamented nails. "When it's on a Black woman, it's seen as ghetto. Now, when it's on [someone else] it's trending and high fashion," says Melissa Samuel, owner and principal nail artist at Finesse Your Claws. Industry data further highlights this conflict, identifying growing interest in nail art as a category sales driver while artificial nails and accessories are on track to become the fastest-growing nail products.
Ahead, TZR spoke with wave-making nail technicians on where Black people fit into the narrative of nails and how the industry can support those who helped build it.
The Role Of Nail Salons In The Black Community
In her research for her book The Managed Hand: Race, Gender and the Body in Beauty Service Work, Milliann Kang explains how the growing number of South Korean and Vietnamese immigrants between the late '70s and early '90s directly fueled America's nail industry growth. As the newcomers found themselves barred from entering typical American work, they turned to business ownership, including nail salons. Suddenly, nail services were also affordable in Black and Latinx communities. Ornate, relatively cheap manicures were attractive fashion alternatives to expensive clothes. Black and brown women long excluded from notions of beauty now had an avenue to participate.
That said, for the better part of the 20th century, conservative manicures were a part of the ideal beauty look. "French manicures and pastel colors signal white, middle-class, heteronormative, feminine beauty. Whereas sculptured, airbrushed nails are markers of Black, poor, sexually deviant, and marginalized femininity," theorizes Kang in her book.
Although not performing the service, Black salon patrons dictated early nail art trends. "We were the ones to say I want the airbrush. I want a lot of color. I want to be bold, I want to be daring. I want long nails. I want the quote-unquote 'ghetto' look," says Veronica Williams, owner and principal artist at RESET Nails in Brooklyn, NY. "We are the ones that implemented that."
However, a 1986, NAILS magazine cover signaled a change: it featured long, airbrushed fake nails on its cover typically reserved for French tips or single-tone red looks. This groundbreaking cover coincided with popular musicians like LaToya Jackson, Donna Summers, and Diana Ross, wearing lengthy acrylics as part of their signature beauty looks, showcasing them on album covers and to public appearances. Suddenly, the manicures that were once reserved to Black communities were now visible in mainstream culture.
Leading The Charge On Nail Trends
While smaller in numbers, Black nail artists have also made high impact with their industry-shaking choices over the decades. Celebrity nail artist Bernadette Thompson designed Lil' Kim's famous Money Manicure for the rapper's 1993 "Get Money" music video. The nail set featured overlaid $100 bills, green rhinestones, and golden spikes. The moment gained so much attention that the U.S. treasury department directly warned Thompson about the laws against defacing currency. The set went on exhibition at the Museum of Modern Art in 2018. "Hip-hop has a major role in everything we do," says Gracie J., nail artist and owner of The Editorial Nail who also led nail styling on the first season of Claws. "People see Nicki Minaj, Saweetie, Lil' Kim, and Missy Elliot — these artists, whether new age or legendary, are getting their nails done extravagantly."
Samuel's specific approach to nail art makes her New York studio a hotbed for new ideas. Her client list is closed, affording Samuel agency over her work not typically found in salons. Her clients know never to bring references for other nail work, a practice that results in highly Instagrammable, structural, and detailed wearable art. "Every set, every month — 90% of the time it's something original and brand new," she says. "[Clients] will bring textures, they'll bring fabrics and sometimes it's just elements." In 2020, Samuel posted a client set of her self-named Mix-and-Match French manicure on Instagram. Each tip featured a different, intricate design including cow print and floral gems. The photos went viral prompting Samuel to translate the look to a press-on set aptly named "The Influencer". Notably, beauty trend forecaster Spate named mismatched nails as a high-growth design trend the following year.
The Rise Of Boutique Nail Studios
Local salons with multiple manicure and pedicure stations have been the sole option for professional nail care until recent years. Now, individual artists with specializations are becoming more commonplace. Nail Room NYC, 10 Piece Nails, Finger Paints Nails, and Nailed by Tav are part of the immeasurable legion of private nail studios and solo technicians leading with nail art. Cultural nuances in the industry and increased demand for embellished nails may be partially responsible.
Williams was pushed to go solo after struggling to find work and mentors at the nail salons in her area. "There's a lot of gatekeeping," she says. "I couldn't get a local salon to hire me." Samuel recalls how traditional salons' conventional expectations negatively affected the overwhelmingly Black and brown artists doing things differently. "[They] wouldn't get booked as much. People didn't want the art [they] were offering," she says.
Additionally, elaborate work requires time, but taking on a higher volume of clients with shorter appointments keeps prices low and salons in business. "I couldn't work on somebody for six hours. I had to take five clients a day," says Samuel. "I wanted to push myself further… Now, my average appointment is about three and a half hours." She adds that she sometimes takes upwards of four clients daily — but now it's out of love rather than necessity.
The nail tech experience deepens the intimate, sometimes tenuous, relationship forged between the service provider and client. Not only do the pair spend longer periods of time together, but clients are often invited into the home or personal space of the nail artist. "You start to grow with them," says Williams. "You've done their baby shower nails and then you've done their wedding nails."
Filling Gaps In The Nail Industry In The Face Of Adversity
As "out-there" nails are slowly starting to be accepted by the mainstream, Black nail artists are meeting the unexpected needs of a client base affected by prejudice. Williams' precise design work leans more minimalistic and is meant for those still grappling with the realities of unyielding corporate cultures. "I wanted to appeal to the working woman," she explains. "It's short, cute, and classy but still different." Williams' designs marry practicality with personality and have amassed a cult following of clients looking for nail art equivalent to the model off-duty, effortlessly chic aesthetic.
Gracie J.'s offerings at The Editorial Nail challenge what is considered high fashion while honoring how accessibility fuels the Black community's engagement with nail art. "I wanted people to have more access to my artwork who couldn't afford a $250 pair of custom press-ons. So that's why I make my mass-produced sets very unique," she says. "You know if you get it from The Editorial Nail, you're not going to find it anywhere else." One of these can't-find-anywhere-else pieces is a nail charm fashioned after the bamboo earrings characteristic of Black fashion history. The charm can be added to a pre-cut, press-on set or taken to your nail artist to be incorporated into your appointment. "I wanted to pay tribute to the Black girls who were too ghetto," she says. "The Black women that have been trend-setting forever, continue to set trends and don't get credit."
The artists included in this article agree that the wider adoption of nail styles once used to villain-ize Black women is ultimately a positive shift, but the industry still has a responsibility. Between artists, Williams hopes to see a stronger attitude of support that encourages diverse professionals. "Me giving you advice doesn't take money out of my pocket," she says. "We need to uplift each other as a community." Gracie J. says those with power and influence can make a difference on social media where authenticity is easily lost. "I think it's especially important for larger platforms and brands to champion the idea of crediting others for their work," she says. "Lead with integrity." As enhanced and adorned nails prove themselves as a lasting phenomenon, the artists closest to culture are poised as the greatest disruptors. Now it's time to celebrate them.