These 12 Spring Haircut Trends Are The Top-Requested Looks At Salons
@kahhspence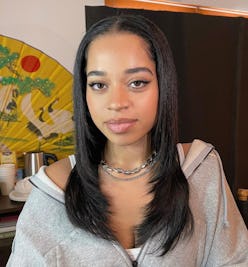 With haircut inspiration all over social media, runway shows, red carpets, and the city streets, there are endless options for your spring 2023 look. "Picking a haircut has never been easier thanks to social media where we have seen a wave of many haircuts like alphabet cuts: "V," "C," and "U" and animal-inspired: wolf and butterfly," says Randy Shamma, Bumble and bumble global educator. But how do you know what haircut to choose? And after a long winter with unforgiving temperatures, which spring haircut will restore moisture back into you hair and give you the edge you're looking for? According to Shamma, this spring's haircut trends focus on making styling a breeze.
Olya Iudina, stylist at IGK NYC, predicts cuts with '90's references will be popular. She sees long hair with more layers, voluminous blowouts, and long, grown-out curtain bangs as looks that will be in-demand at salons. Jamie Mazzei, creative director for NuBest Salon & Spa in Manhasset, New York agrees. "I see a more modern take on some of the '90's classics remerging for spring — long, layered haircuts that give hair lots of movement and style for easy maintenance and versatility," the stylist says. The only thing Mazzei warns against are cuts that are all one length. "When hair is all one length it doesn't have as much movement and shine," the expert explains. However, if that's a cut you are interested in, he suggests consulting with your stylist who can recommend super subtle layers to give hair movement and dimension.
To help you hone in on your perfect spring 2023 cut, TZR spoke to top celebrity hairstylists to define the 12 best haircuts for all hair types and lengths. And because healthy hair starts in the shower, the experts also share their favorite products to maintain shine and fight dryness, so your cut always looks fresh.
Soft Bangs
Looking to transform your current style without losing any length? Just add a set of soft, textured bangs. The slight tapered shape of this fringe will highlight your facial features and adds softness to any existing cut. To keep your bangs fresh in-between wash days, spritz them with a bit of dry shampoo. Opt for a volumizing formula such as Living Proof's Perfect Hair Day Dry Shampoo. In addition to adding lift at the roots, it soaks up excess oil and buildup without leaving any white residue – even on dark hair colors.
Curve Cut
This trending cut gets its name from the way its cascading face-framing layers form a curve or "c-shape." If it looks familiar, you're onto something – the style is a modern take on Jennifer Aniston's iconic "The Rachel" cut from the '90s, which featured tons of shaggy razored layers. To enhance the shape of this look, blow-out the hair with a volumizing round brush such as Oribe's Italian Resin Medium Round Brush. Asthetics aside, this styling tool is designed to have the perfect grip and weight and is made with boar bristles and nylon pins for added softness and shine.
Cub Cut
Labeled as last year's "wolf cut's" cooler, younger sister, the "cub cut" is having a moment both online and offline this spring. This look is typically bob-length and has razor-sharp layers to add body and texture to the hair. To really boost volume and enhance the cub cut's layers, prep the hair with a lightweight mousse such as Balmain Hair Couture's Volume Mousse Strong. Unlike the formulas of the '80s and '90s, this one adds body and definition without the crunchiness.
French Bob
If you're looking for a loose and lived-in take on the classic bob haircut, the French bob is your answer. Jayne Matthews, Hairstory network stylist and founder of Edo Salon & Gallery, describes it as a blunt bob shape, but cut in a looser and more organic fashion with crown layers and little tousled bits that frame the face. "This cut celebrates natural texture and looks great on curly, wavy, or straight hair," the stylist shares. Crown layers are also the key to giving it a little volume. For daily styling, Matthews recommends Hairstory's New Wash Original for soft hair that has full body, without looking too fluffy or round. Another tip: "Letting your French bob dry tucked behind your ears gives a face-framing bend," she continues.
'90's Mid-length
According to Raven Hurtado, stylist at Maxine Salon in Chicago, the '90's mid-length haircut consists of curtain bangs (yes, those aren't going anywhere!) with layers throughout the back, and length below the shoulders. "This cut works great on fine to medium hair as the layers will give the hair a lot of lift for volume and make the hair appear full," says Hurtado. It looks best styled with a round brush to make the layers pop.
Textured Mid-Lob
Iudina recommends the textured mid-lob. Not quite a chin-length bob, but not entirely an on-the-shoulders lob, this cut is ideal for those who don't mind maintenance as it needs to be trimmed every two to three months. If you have wavy hair and are looking for a sharp straight look, the pro encourages using a blow dryer and round brush or quick flat iron styling for a smooth finish. IGK Antisocial Dry Mask is another great product to revive dry hair, especially from blistering cold winters. Iudina recommends applying the mask two to three times a week or as much as you need to bring back the softness. "It's very lightweight, not greasy, can be used as finishing spray after a blowout, and won't bring the hair down," Iudina tells TZR.
Broken Bobs
According to Wes Sharpton, Hairstory stylist and lead brand educator, broken bobs are classic bobs that have a broken-up shape with the help of layers and strong bangs. For daily products, James Ruiz, Bb. global educator, suggests Bb.Sunday Clay Wash as a great seasonal change remedy that's color safe for all textures. The hybrid shampoo and mask helps to remove buildup on the hair and scalp, and is great to use to help target specific spots of flakes on areas of the head that need the most attention.
Curtain Bang Layers
If you grew your hair out in the winter months and want to retain length, Mazzei suggest over-exaggerated curtain bangs that blissfully fall into longer layers. The pro explains how, although the trend is not new, what sets the cut apart in 2023 from years past, is that the longer layers of the '90's would start at the shoulder, whereas in 2023 he sees longer layers starting with curtain bangs and working their way down. "Longer layers works for all hair types and textures, and maintenance is really easy — style as normal each day by air drying or adding a bit of volume with a blow dryer." Mazzei tells TZR.
Long Shag
Long shaggy haircuts have layers for lots of movement and work great on thick and full hair. "This cut can also be low-maintenance in styling," says Hurtado. "If you're more into air-drying, when it's damp, apply a cream or oil to keep the hair moisturized, then sea salt spray as you shake out the roots with your fingers." Once the hair is air dried, you'll have a natural texture with movement. Another Hurtado tip: Keep up with trims every eight to 10 weeks to maintain fresh layers.
'70's Layers
Flowy, '70s-inspired long layers with a soft bend is all celebrity hairstylist and Rodan + Fields ambassador, Bridget Brager is getting requests for from clients. "This cut is all about creating movement from within," she shares. And if you want more of a dramatic blowout, Hurtado suggests using a round brush or velcro rollers to flip out layers and swoop the face-framing layers. "I recommend letting the velcro rollers sit for 15 to 20 mins to achieve an at-home '70s blowout," she says.
Skullet
According to Ruiz, the skullet, a hybrid between a mullet and shag, is making a huge comeback this year. Popular in the '90s around the rave scene, the resurgence is gaining traction thanks to New York models and influencers. If you want this one to be low-maintenance but maintain its edge, Hurtado recommends applying Oribe Matte Waves Lotion to damp hair and letting it air dry for effortless texture.
Chunky Bob
Mazzei sees chunky bobs as a big trend thanks to the Spring/Summer 2023 runway shows. "The 2023 bob is a complete opposite from longer layers — it's a blunt cut right at the jawline or at the chin," the expert tells TZR. The runways saw it styled with a slick look right at the crown of the hair, or with a bit of a wave at the bottom that you can easily achieve with a flat iron. If you're interested in this style, he suggests talking to your stylist about your specific hair type and what will need to be done to ensure the cut doesn't make your hair look triangular. "The stylist might need to thin out the bottom or add a subtle layer underneath to achieve the desired look," he says.
This article was originally published on