Extreme Hair Lengths Are Everywhere & Ciara's Eye-Popping Extensions Prove Why
How can you not love the drama?
Daniele Venturelli/Getty Images Entertainment/Getty Images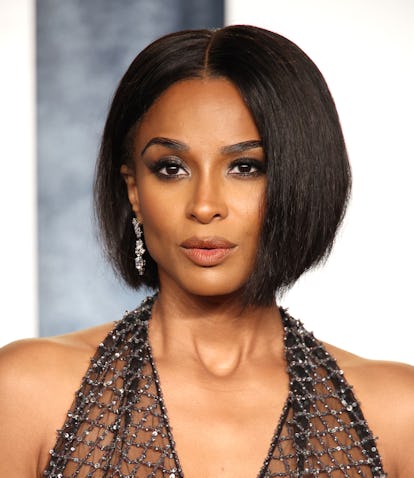 Ciara might have skipped out on walking the Met Gala steps this year, but that doesn't she's not dialed in to every major trend from the high-fashion fundraiser. Over her 20-year career, the Beauty Marks singer has tried, almost literally, every conceivable hair length and color, but her latest look is so extreme, it might be a true first for her. At the 27th annual ACE Awards, a celebration of the biggest innovators in the accessories industry, Ciara's long extensions and sultry eye makeup ruled the red carpet, effectively cementing the major-length hair craze as here to stay. Already co-signed by many of her stylish friends and peers, it looks like dramatic hair lengths — be they a chic buzz cut or and knee-grazing wig — are the preferred form of self-expression for the reigning A-list.
Taking home a top award for her contributions to sustainability with her LITA clothing line, Ciara looked every bit the mega-star mogul as she posed in an oversized suit and towering platform shoes. Playing into the outsized-everything theme, even her sleek, straight hair flowed longer than fans have ever seen it, hitting the top of her thigh — especially impressive considering the five-plus inches the heels give her.
Rob Kim/Getty Images Entertainment/Getty Images
Rob Kim/Getty Images Entertainment/Getty Images
Just a few days earlier, over at the Metropolitan Museum of Art, several of the most notable gala attendees played around with extra-long extensions themselves. Gigi Hadid, Ice Spice, Emma Chamberlain, Jennie Kim, Cardi B, and Anne Hathaway all appeared on the cream-colored carpet with major hairpieces installed, adding so much volume, movement, and extra inches for stylists to utilize. Conversely, the exact opposite is having a moment, too. Florence Pugh's shaved head was among the 2023 Met Gala's most noticeable moments, as well as Olivia Rodrigo's faux-pixie cut and Margaret Qualley's micro bob. To nail the trend, it doesn't matter if your hair is wildly long or incredibly short. It simply has to be on either far end of the spectrum — aesthetic horseshoe theory!
Raymond Hall/GC Images/Getty Images
Dimitrios Kambouris/Getty Images Entertainment/Getty Images
For Ciara, though, it's all old hat. Her love for all things beauty means she's no stranger to extensions, wigs, falls, and cutting her own hair into all sorts of exciting lengths and styles. Really, the only guarantee is her commitment to change.