Why Would Ciara Have Just One Trendy Hair Color When She Can Have Four Instead?
Fairytale hair, all summer long.
@ciara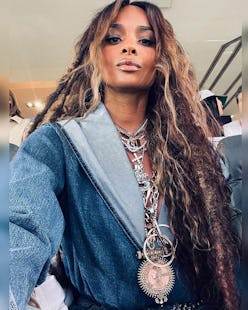 Even the most sophisticated stars understand that there are times for serious, sleek hairstyles, and there moments to embrace the whimsy and go all-in on a look that puts pure fun ahead of anything else — while still managing stun, of course. If you've been able to keep an eye on the post-Coachella beauty dispatches, you know first-hand that brightly colored hair streaks were everywhere through Weekend One, including rainbow hair that combines several vibrant shades at once. Ciara's unicorn hair, as she describes it, might be the most major of them all. Layering iridescent shades of silvery blue, purple, pink, and against a cool, ghost-white platinum base, it's the sort of fun-loving, freewheeling hair trend that makes the summer season feel so special.
Fans noticed the "Better Thangs" singer walking through the festival with her husband, Russell Wilson, their adorable kids in tow. Ciara had her pretty pastel unicorn hair in place already, seen again in a surprise on-stage performance with Jackson Wang, but it wasn't until she posted some high-definition shots to her Instagram that the multicolored look could be fully appreciated. Created by celebrity hairstylist Cesar Deleon Ramirez, the elaborate look involves multiple colors, of course, but also plenty of extra length for added drama, and a dreamy, tightly waved texture.
While the unicorn hair color combination is a new one for Ciara, all the individual elements are well within her wheelhouse. Ci's experimented with virtually every shade of pink, purple, blue, and even orange hair over the past few years, though this appears to be the first time she's combined them all this way. However, some of her all-time best hair colors do incorporate several different colors and tones to give plenty of dimension.
The coolest part of Ciara's unicorn hair is how it manages to keep one foot in the ramping-up rainbow streaks trend (as seen on Becky G, Saweetie, Alessandra Ambrosio, and Karol G at Coachella Weekend One alone) but puts her own distinct spin on it. Whimsical, youthful, and a little unexpected, unicorn hair might end up as the singular artsy it-girl look of summer 2023.