The 4 Most Popular Types Of Hair Extensions, Explained
@justinemarjan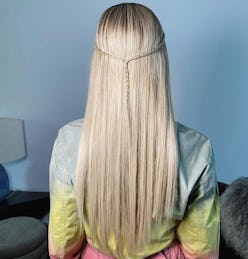 Getting a dramatic haircut is always a risk. If you don't like it, it'll take months to grow out. But thanks to the magic of hair extensions, it's possible to completely transform your look without making the commitment. Not only do they add thickness, length, and volume to your hair, but extensions can also be a risk-free way to experiment with different colors. Frequently seen on celebrities like the Kardashians, the category has grown vastly over the years, and today there are different types of hair extensions to choose from.
From clip-ins to sew-ins, you may already be familiar with a few of the options, but there's a few factors to keep in mind when making your selection. "The first thing you'll want to consider is going to be your lifestyle. I often ask clients, 'What are your goals with hair extensions and what are you looking to achieve?'" says Justine Marjan, celebrity hairstylist and Great Lengths US brand ambassador. Every type of extensions has its own set of benefits, drawbacks, and price points, so it's important to know the difference between them all so you end up with your desired results.
Ahead, TZR tapped four hairstylists for their expertise on choosing the right type of extensions, plus how to maintain them at home.
Human Hair Vs. Synthetic Hair Extensions
Human hair is most often used to create a natural look that moves and feels like your own. "The upside to using human hair is that you can treat it just as you would your natural hair. From washing, styling, and applying heat, it can make maintaining your style at home pretty effortless," says Marjan. This ease doesn't come cheap, but if you're after a long-term style, investing in quality hair will be worth it.
Synthetic hair, on the other hand, is crafted from man-made fibers and is more high-maintenance when it comes to upkeep. Whether the extensions are made from 100% synthetic or blended with human hair, they often can't be styled with heat, custom colored, and most importantly, must be cared for with special cleansers in order to ensure they remain looking lustrous.
What To Know Before Getting Hair Extensions
Versatility is one of the best attributes of hair extensions. Whether you're looking for a style that keeps your natural hair protected for a few months or a temporary look for a special occasion, the options are seemingly endless. That said, it's important to make sure you and your stylist are on the same page about your hair objectives and what styles you plan on wearing.
"Certain types of extensions will require your hair to be blended with them so finding a texture and color that matches will be essential," says Brittany Johnson, hairstylist and senior brand marketing manager at Mayvenn. She tells TZR that a consultation with your stylist will help determine what type of extensions to get. During the appointment, you'll discuss your hair care routine, how often you plan to use heat styling, and how long you want your extensions to last.
Types Of Hair Extensions
Clip-Ins
The most temporary type of extension available, clip-ins are a great way to add length and fullness to your hair for a short period of time. "They usually come with seven to 10 pieces that can be placed throughout your head and in range in textures and colors," says Johnson. However, while the clips do make them easy to install yourself, working with a stylist will ensure that they blend seamlessly with your hair for a natural look. When installed professionally, the extensions can appear to give the hair a layered and smooth look. But as Paul Labrecque, hairstylist and founder of Paul Labrecque Salon & Spa in New York City, notes, they can be difficult to sleep in and aren't made for longtime wear.
Since these extensions are often removed on a daily basis and aren't subjected to the hair's natural oils soiling them, quality clip-ins can last for a few years with proper maintenance. "The initial cost usually depends on the intricacy of the coloring or curl pattern, but usually ranges between $200-$400 per pack," says Johnson.
K-Tips
Keratin extensions, commonly known as K-tips, are a semi-permanent type of extension that is individually attached to the hair using man-made keratin bonds. In that vein, they offer an extremely flawless look and are among the most versatile when it comes to styles like updos and ponytails. "K-tips are customizable, so you can easily match your current hair color and density for an overall natural look and feel," says Javier Garcia, celebrity hairstylist, and extensions specialist. They also can last upwards of five months with the right care and maintenance. As you can imagine, this has made them a top choice in many salons, but there are a few caveats to this popular style.
Marjan tells TZR that while many brands use heat for the application, it's not the most ideal as it can cause unnecessary heat damage to hair. To avoid this, she recommends having them applied with ultrasonic wave technology which also uses the same type of keratin that's found naturally in your hair. "This method allows the keratin to expand and contract when in contact with water, just like your natural hair would, which results in less tension and damage on the hair," she says. Cost can also be an area of concern as it depends on the length and fullness of the extensions. "The average price varies, but $2,000 is not an uncommon starting point," says Garcia.
Tape-Ins
If you're new to using hair extensions, tape-ins are a great option that's low maintenance and economical. Just as the name suggests, the wefts are accompanied by a strong adhesive that is 'taped' to the natural hair. Ideal for a range of hair types, such as textured or fine, tape-ins can be an economical choice as you're able to reuse them for up to six months or three move-ups — an in-salon maintenance service that adjusts the original placement of the weft. "Move-ups are necessary as the hair grows and should be done every four to six weeks to ensure the extensions are well blended with your natural hair," says Garcia.
Though the application may sound simple, this kind of extension should be applied and removed by a professional to ensure that you're not damaging your hair. "The one drawback to using tape-ins comes with detaching them from the hair," says Labrecque. He notes that the surgical-strength adhesive can cause small dreads at the root of the hair that are difficult to remove. As far as cost goes, on average you can expect to spend $1,800 or more for installation alone.
Sew-In Weaves
Sew-ins are a common protective style where the natural hair is braided into cornrows and the extensions are weaved into the braids using a needle and thread. Braid patterns often vary and allow for a range of styles, including middle or side parts and closures or frontal pieces that completely cover the hair. "With the use of hair bundles instead of wefts, sew-ins can last anywhere from six to eight weeks with proper upkeep," says Johnson.
However, since your hair is braided underneath, it is important to maintain regular appointments to ensure that your natural hair remains healthy. As with the other methods, prices for the application alone vary but can range from $200 to $2000 depending on the stylist.
Maintenance & Upkeep
Each type of hair extension warrants its own maintenance routine but as a general rule of thumb, Garcia advises using the best kinds of products for the type of hair you've chosen as well as the right tools. "Brushes are the most used item and making sure you're using one that won't yank the extension out of place or put too much tension on your hair is crucial for the longevity of your style and hair's health," he says. According to Garcia, metal-tipped paddle brushes and ceramic round brushes will be your best bet for blow-drying because they get the job done quickly without adding stress to the hair.
Keeping the extensions tangle-free is also key. "For human hair, putting your extensions in a loose braid or some other low-tension controlled style while you sleep will cut down on detangling and while a silk pillowcase will decrease frizz," says Johnson. Lastly, be sure to use a heat protectant when you style.