Found: The Fortifying Hair Oils That Don't Weigh Down Your Strands
Healthy, shiny hair is always in.
@ariba_pervaiz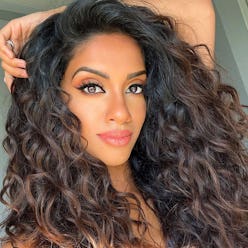 We may receive a portion of sales if you purchase a product through a link in this article.
Join TZR editors for Main Squeeze, the series dedicated to sharing beloved beauty products — be they bold, effective, or simply fun — that make our week just a little bit better. Ahead, Team TZR spotlights their favorite hair oils of the moment.
From color treatments to hot tools, our hair endures a lot. Come to think of it, it's almost impossible not to damage your strands. Whether you're updating your look for the new season or trying out TikTok's latest braid trend, your hair gets put through the wringer. And for the most part, it powers through, staying resilient style after style. But sometimes it needs a little extra love. That kind of TLC can come in many forms, like a deep conditioning mask, tender scalp massage, or even from using a nourishing oil. Often infused with natural ingredients, the best hair oils can fortify and strengthen strands to with stand even the most rash styling or color decisions.
Curly, straight, thick, or thin, almost every hair type can reap the moisturizing benefits of using an oil. And with a variety of formulations out there, finding one that works well with your texture isn't too hard. However, if you're searching for a new product to add to your wash routine or even to dip your toe into the hair oiling ritual, you've come to the right place. From weightless dry formulas to hybrid glosses, the following workhorse oils nurture strands, tame frizz, and best of all, boost shine. Ahead, the 10 hair oils TZR editors keep on hand for silky-smooth hair.
"The only hair oil I use is from Squigs because it doesn't leave a greasy residue on my hands after application — a pet peeve of mine — and it smells subtly of orange zest, which makes putting the product on my hair all the more refreshing." — Marina Liao, senior fashion news editor, TZR
"This hair oil from French brand Shaeri is perfect because of its many uses. I use it on wet hair right after the shower to add softness and shine, and on dry hair throughout the day to if my ends are looking brittle. It can also be used as a pre-shampoo treatment. I love the light texture and how it doesn't weigh my hair down — plus, the scent is intoxicating." — Faith Xue, executive beauty director, lifestyle, BDG
"I have incredibly fine hair, albeit a lot of it, so even a smidge too much oil will instantly make it appear greasy. This lightweight formula — which I carefully apply only at the ends — always give me a smooth, glossy finish without weighing my strands down." — Alison Syrett, deputy fashion editor, TZR
"I love a multitasking product, and this one has been a regular in my arsenal for years. It provides the perfect smoothing, shining effect for any sleek hairstyle. I'll even run it through a waved or natural curly look to keep frizz at bay. And, of course, after I'm done with my hair, I'll work some oil onto my legs, arms, and cuticles for some quick and easy moisture." — Angela Melero, executive editor, TZR
"I'm usually pretty picky when it comes to hair oils because they tend to weigh my already thick hair down. But this one is different. Instead of using it on dry hair, I smooth it into my strands while damp and let the jojoba and baobab oil blend soak in a bit before blow drying. As a result, my hair feels soft, sure, but also much more nourished than using a dry oil alone. The scent is also wildly intoxicating so it really feels like a spa experience each time I use it."— Jessica Fields, beauty writer, TZR
"Despite having thick hair, my strands really retain moisture so many hair oils are too heavy to use. However, Virtue's Hydrating & Heat Oil is a lightweight option that doesn't leave hair greasy. On top of nourishing strands, the formula offers protection from UV light and pollution, which comes in clutch for my color-treated dark brown hair that's prone to fading. I like to run a dab through my dry mid-lengths to ends to revive my styles between washes." — Erin Lukas, deputy beauty editor, TZR
"Just the smell alone is divine, but when you mix the oil between your palms and apply it to your hair (wet or dry), you're left with silky, revitalized hair without it weighing it down or feeling crunchy. Honestly, I wish this also came as a body oil." — Kathy Lee, Editor-in-Chief, TZR
"My hair is dense but not necessarily thick, which means many hair oils end up looking...too oily on me, even through my ends. DAE's sweet-smelling Prickly Pear Oil is hydrating, glossing, and frizz-fighting, but has the perfect amount of viscosity as opposed to a really runny consistency. That also means it can be dispensed via pump, keeping the bottle clean and mess-free." —Amanda Ross, beauty editor, TZR
"This is, without a doubt, my desert island hair product. No matter if I'm wearing my hair curly or straight, this oil smooths out frizz, hydrates my ends, and provides an allover shine to my strands. My favorite time to use is right after I give myself an at-home blowout – it really takes my hair to the next level." — Maggie Haddad senior social media strategist, TZR
"Before bed, I wrap my hair and cover it with a scarf so I try not to use too much oil because it tends to get greasy pretty quickly. But on the days when my hair is feeling dry or looking a little lackluster, I'll rub a few drops of this one in to give it a boost of moisture and shine. It's super light and doesn't leave an oily film. Most importantly, it sinks in and really hydrates my strands, leaving my ends looking refreshed and healthy." — Fields