The 10 Essential Products To Keep Your Protective Style Salon-Fresh
@amaka.hamelijnck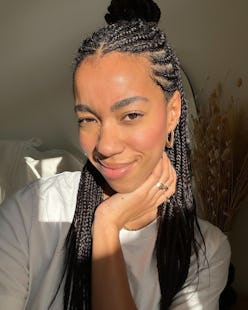 We may receive a portion of sales if you purchase a product through a link in this article.
By design, protective styles are meant to keep your hair safe from the elements and man-made damage like hot tools use and hair accessories. Regardless of the season, these looks are essential for naturals because they maintain healthy hair. But the real work begins the moment you walk out of the salon with fresh braids, sharp parts, and laid edges. Yes, a tucked-away hairstyle does minimize daily styling time, but it doesn't mean you're completely off the hook. Maintaining your look requires a range of protective style products designed to prolong its lifespan.
Of the different items you'll need, a silky covering to wear to bed will be one of the most important. "It's essential to protect your hair while you sleep," says Kimberlee J. Blakley, celebrity hairstylist, licensed trichologist, and senior director of product development at MAV Beauty Brands. The stylist continues, noting that not doing so can result in frizzy hair that's prone to breakage and decreased shine. The good news is that you have options here. "You can choose between satin bonnets, silk scarves, or pillowcases fashioned from either of those materials as they create less friction which is a major cause of damage," says Lacy Redway, celebrity hairstylist and hair artist.
Mousses, oils, gels, and creams also play a role in extending the life of your look, as it's important to nourish your strands despite them being concealed. "Treating your natural hair and ensuring that it's hydrated and moisturized will go a long way," says Atlanta-based stylist and braider, Pearl Ransome. Last but certainly not least, you'll want to prioritize scalp care as buildup will be more evident and bothersome with a braided style.
Blakely tells TZR that looking for products with a needle nose applicator will allow you to best reach the scalp in order to quickly cleanse it with little disturbance to the style. "These kinds of products often require no scrubbing to effectively remove dirt, and the direct application alleviates excess water that can be trapped in the braid, adding weight and tension to the strands.
Ahead, the top products as recommended by stylists to keep your style looking salon-fresh.