Rihanna's Newest Nail Art Brilliantly Reflects Her Intriguing Astrological Chart
@rihanna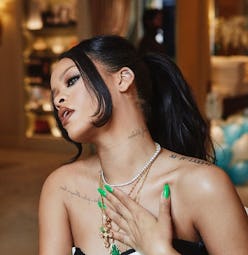 Let she who has never spent a lazy afternoon researching different celebrities' Zodiac signs be the first to throw a stone here. How else would you find out the very compelling information that, despite being a Pisces, Rihanna's astrological chart is almost all fire? Truth be told, though, it makes a lot of sense. Her zingers are next-level, she's tirelessly ambitious, and she adores a red lip — that's pure firepower. She represented the element once again in her latest Fenty Beauty tutorial, but incorporated them in an unexpected way. Rihanna's black flame nails feature actual fire motifs, concentrating the shapes towards the tips of the nails for a creative twist on the traditional French manicure. Leave it to Rihanna to remix something so classic, making it feel so fresh and so distinctly her all at once.
The big manicure Rih-veal arrived via her Instagram, in which she demonstrated how she likes to wear Fenty Beauty's Hella Thicc Mascara. As she swirls the wand around in its metallic tube, her square-shaped nails dominated the frame, showing off the curved flames decorating the tips of the manicure. It's not the first time she's done fire nail art in general, but she usually does reds rather than this inky, glossy, jet-black shade.
Fewer and fewer celebrities are wearing the traditional pink-and-white French manicure colorway that were especially popular in 2020 and 2021, opting instead for interesting shade pairings, abstract nail art, and shapes and designs towards the tips rather than a solid, curved arch. As such, the trend just keeps going, spinning off into new, recreation-worthy iterations that are sure to still be hanging around even years from now. Lizzo and Hailey Bieber are just two celebrities to experiment with creative takes on French manicures in the past few weeks, with Rihanna now joining their ranks.
Despite caring for all her beloved Fenty brands, baby, possible husband A$AP Rocky, and blossoming pregnancy, Rihanna still has time to deliver excellent aesthetic inspiration — now there's her Pisces side coming out.