Hailey Bieber's Itty-Bitty Nail Art Freshens Up Her Classic French Manicure
That fruit looks familiar.
@haileybieber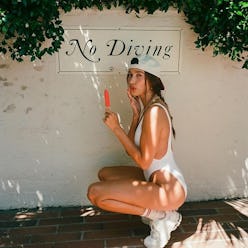 Forget tomato girls and soup girls or whatever other social media-driven aesthetic wave is about to flood your feed next — TikTok trends are great, sure, but what about the classics? It doesn't get much more retro summer than cherry prints and motifs with their cheerful red color palette and appropriately seasonal nature, which is probably why one of the world's most preeminent nail art influencers incorporated it into her latest manicure. Yes, Hailey Bieber's cherry nails aren't nearly so maximalist or extreme as her other recent looks, but they're still seriously impactful. And in fact, it could be their scaled-down size that makes the nails so noteworthy in the first place — it's like a special hidden detail only noticeable at certain angles.
Naturally, Bieber made sure to show off said angles when she posted a festive Fourth Of July photo dump on her Instagram page. In one shot, she's seen in a bright red bikini with her nail art on full display while eating an actual cherry, too. That's serious commitment to a theme, and it paid off in the pictures. Aside from the tiny fruit decals on her ring fingers, Bieber opted for a straightforward, traditional French manicure.
It's the most laid-back look fans have seen on Bieber all summer long, with creative takes on French tips, trippy multicolored patterns, and moody dark colors all in her recent rotation. It's almost like she's returning to her chic, sleek nail comfort zone — think glazed everything — after a few fun months of experimenting.
Though this isn't the first time Bieber's tried cherry nails, it's definitely her simplest iteration of the style so far. By placing one minuscule pop of color just on a few nails, the fruit is a supporting player rather than the center-stage star. As the Rhode founder continues her summer full of sophisticated, timeless outfits, the upgraded French manicure seems like an excellent companion piece.