So *This* Is How To Wear Foundation In The Winter
Thos Robinson/Getty Images Entertainment/Getty Images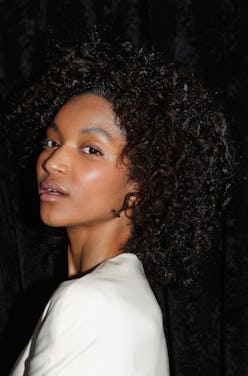 Spring is so close I can almost feel it... Wait, no, I can't feel anything because my toes are literally numb from the record-breaking cold. The (way) below-freezing temps across the country are proof that winter isn't going anywhere anytime soon; and your makeup routine needs to roll with the punches. If you're not sure where to start, these winter foundation tips — curated by some of the best makeup artists in the business — should help.
Choosing the right foundation for the wintertime is key, since this is the literal "foundation" that you build the rest of your look on top of — and finding your perfect base begins by getting to know your skin and figuring out what it needs. "First, you want to examine how the winter changes your skin," Jaleesa Jaikaran, a backstage beauty fixture who glammed up models for the latest Savage x Fenty runway, tells The Zoe Report. "Some may get drier and bit paler than others, so your choices of foundation will vary from shade to finishes." According to the makeup artist, there are four main areas to focus on — shade, hydration, texture, and application — to ensure you're wearing winter foundation the right way.
Ahead, the four-part guide to buying and applying winter foundation like a pro.
Shade
"Color is the most important thing for foundations," Nina Soriano, an editorial makeup artist who works with Harper's Bazaar and ELLE, tells TZR. And unfortunately, you probably can't get away with wearing the same shade year-round. "In winter, our complexions tend to be much paler than in summer months — so having a color to suit our winter versus our summer complexions is a must," she says. Your "winter skin" is likely only a shade or two lighter than your "summer skin," depending on how deeply you tan. Soriano recommends checking out Fenty Beauty's Pro Filt'r Foundation range, which has 40 shades to choose from.
Hydration
It's no secret that cold winter air tends to dry out the skin — that's why your lips are constantly chapped and your face gets a little flaky. To counteract this act of nature, it's all about hydration. "Always prep the skin with plenty of hydration to start with — face mist, hyaluronic acid serum, and moisturizer," Molly Greenwald, Constance Wu's go-to makeup artist, tells The Zoe Report. She swears by Pour Moi's Climate-Smart skincare range, which "treats your skin for the climate you're in." Greenwald is also a fan of mixing a drop of face oil into her foundation before applying, to give it a little light-reflecting boost.
"Avoid foundations that are matte and opt for ones that are more lightweight," Jaikaran instructs, noting that matte finishes can accentuate any dry patches. "I like to look for a more hydrating, luminous formula," Greenwald says. "I'm digging the new Laura Mercier Flawless Lumiere Radiance Perfecting Foundation and the Shiseido Synchro Skin Glow — they both stay so radiant and have long wear, which is needed in the winter elements."
Texture
One often-overlooked factor when it comes to choosing the right foundation is skin texture. Is yours bumpy? Flaky? Acne-prone with large pores? All of that will influence which foundations will work for you. "I believe that if you have bumpy or acne-prone skin, you should go for foundations that are light in weight," Soriano says, since thick formulas may draw attention to an uneven surface. The same goes for luminous or dewy finishes. "I stay away from pearlescent or too-shiny formulas on any heavily textured skin — wrinkles, acne, pores, scars — since it can end up accentuating it instead," Greenwald says. She prefers the semi-matte look of Armani Luminous Silk Foundation.
"For large pores, I would recommend an oil-free foundation to help mattify the skin and make pores appear smaller," Soriano adds; while rough, dry skin will benefit most from a lightweight or hydrating formula.
Application
Of course, all of that means nothing if you don't apply your foundation in a way that can withstand winter weather. "If you're flaky and dry, don't rub or drag your foundation," Greenwald warns. "Stick to stippling and pressing it in to avoid lifting the scaly skin."
"I also like using thinner layers of makeup in the winter time," Jaikaran says. And as much as you love your BeautyBlender, you may want to send it into hibernation for winter. "Try using duo fiber brushes instead of sponges and blenders, since those can tend to apply more product," she tells TZR. Soriano suggests keeping it low-key by applying foundation directly with your fingertips "so it melts into the skin."
Ahead, the foundations making it a little easier to face the winter cold.
Shop Winter Foundations