11 Drugstore Foundations That Are Perfect For Dry Winter Skin
Andreas Rentz/Getty Images for Marcel Ostertag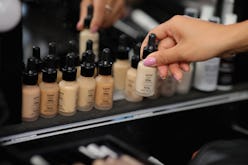 Not sure if you recall, but there was once a time when drugstores were better known for picking up prescriptions and cleaning supplies, rather than scooping up a new palette. But these days, the makeup aisle rivals the cosmetic counters at the finest department stores.
And with the abundance of products on display, finding a good foundation has never been easier. Finding a drugstore foundation for winter is a bit tougher, though: "During the winter, you want to look for foundations that are moisturizing and hydrating — but not full of oil," makeup artist Dionne Wynn, who works with Tiffany Haddish, tells The Zoe Report. "If you can't find your exact tone, you should custom-blend your foundation."
None of us are one skin tone, she says — the center of your face, where the sun hits first, may be yellow, and the perimeter of your face may have more red undertones. "I mix foundation colors all the time to get the color and finish that I want," Wynn continues. With that in mind, TZR asked celebrity makeup artist Eric Ferrell, pro makeup artist Jenny Patinkin, and New York City-based makeup artist Ashleigh Ciucci about their favorite picks appropriate for mixing and blending to perfection.