This Best-Selling Foundation At Sephora Lives Up To Its Hype
Matteo Scarpellini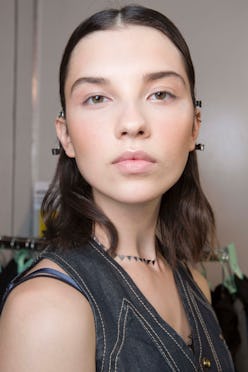 The older I get, the less makeup I wear. I still love the ritual of applying it, but I've opted for a more natural look over the past few years. I used to go all out on a daily basis—we're talking full-coverage foundation, concealer, highlighter, the whole nine. I liked my skin to look flawless (in a makeup-veiled sort of way) for any activity—work, school, you name it. These days, I tend to wear that face only when I'm going out, which isn't all that often, so basically I live in sheer foundations and BB creams. But! That doesn't mean I don't still appreciate a high-coverage foundation. So I had to give the new highest high-coverage option that's selling like crazy at Sephora (the number-two best-selling foundation online) a shot.
I first try Huda Beauty's #FauxFilter Foundation days before Halloween, when I transform my face into a Día De Los Muertos sugar skull. I need something to completely camouflage any trace of redness or blemishes. It's abnormally hot in LA, and I can feel myself sweating as I start to apply it. I use a Beautyblender (the brand suggests the Huda Beauty brush, but I prefer a sponge) and instantly notice how pigmented the foundation is. It's covering everything but doesn't feel cakey. It even holds up as I sweat through the rest of my makeup session.
The foundation hides all my freckles without enhancing pores or giving my skin a weird texture. My complexion looks glowy—it actually looks like my face has a filter on it (as the name suggests). All in all, I'm kind of obsessed, but I still have a long celebration ahead of me.
As the night goes on, I forget I'm wearing any foundation. I have plenty to eat and drink, not remembering I have skull-like teeth painted across my mouth. About now I realize I didn't bring backup supplies for touch-ups. I do a mirror check hours after first applying my costume makeup, and to my surprise, it's all in place—even the makeup I applied directly onto my lips! My usually oily skin is still matte. But because I can be a pessimist when it comes to new beauty products, I decide my foundation has one more test to pass: the flash test. I jump into the photo booth, wait for the bright light, then pick up my print. My face isn't blown out, nor did the color of the foundation change. And just like that, I'm ready to retire my BB cream.