How To Make Your Pores Look Nonexistent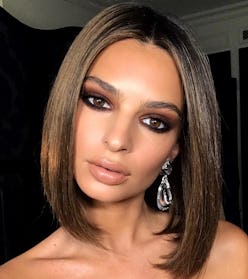 Celebrities, they're just like us, right? While that might be true when they shop for groceries or make a pit stop at Starbucks, it certainly isn't the case when it comes to makeup. We can't be the only ones who wonder how they get that airbrushed finish from their foundation every single time—seriously, not a pore in sight. Before you go breaking out the magnifying mirror and staring at those pinholes peeking out from under your own makeup, we have a few tricks for hiding them rather than enhancing them. And remember: Even the most flawless-looking A-list women have pores. They just have a team of makeup artists to hide them. Ahead, our tips for masking the most common (and annoying) complexion predicament like a pro.
What Pores?
Don't Just Swipe On Your Primer, Press It Into Your Skin
If you struggle with large pores, chances are you've already invested in a blurring primer. But if you're just swiping the product onto your face, you're doing it wrong. Instead, press it into your skin to fill in those microscopic holes and ensure a smooth canvas.
Use A Different Kind Of Primer
Eye shadow primers are built to battle the most prominent creases on your face, so when used on other problem areas, they conceal imperfections and keep them a secret all day long. This step is optional, but if you feel like you need extra coverage (we're talking girls' night out, your birthday or wedding day), add a layer and press it in.
Swap Your Liquid Foundation
A thick liquid foundation can enhance pores—instead opt for a powder version to completely mask them. When it comes to the final look, pressed foundation offers complete matte coverage, while loose powder provides a softer look and lighter coverage.
Apply Your Foundation With A Brush
If pores are your main concern, swap your makeup sponge for a dense brush. Use a circular motion to buff your powder foundation into the skin.
Stay Matte
If you have large pores, chances are you get super oily in your T-zone. When those oils begin to produce in the middle of your day, they make the pinholes visible all over again. To keep your makeup in place (and your pores invisible), stash oil-blotting sheets in your purse for midday touch-ups.