I Hate Foundation But Swear By These 10 Products For Perfect-Looking Skin
Khalea Underwood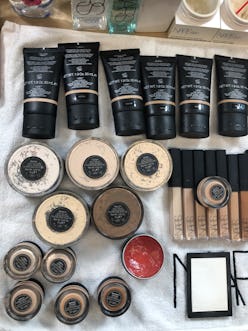 I was 14 when I decided that I needed to wear a full face of makeup to be mature. Granted, I didn't suffer from terrible acne, but my uneven skin tone bothered me. Plus, wearing makeup as a teen seemed like the appropriate rite of passage for my freshman year of high school. I just wasn't savvy enough to know what to wear instead of foundation — so I was hellbent on finding the heaviest, full-coverage base that I could get my Hard Candy-covered fingertips on.
So after a summer of begging, taking on extra chores, and saving up allowance money, my Aunt Lisa took me to a makeup counter (that shall go unnamed) at the mall. I was so excited. This brand was one that models and celebrities wore, and was way fancier than the drugstore stuff that my friends carried around in the back pockets of their Limited Too jeans. After being color matched, I walked out of the department store with a sleek little black bag, and my head held high.
Turns out the confidence was short-lived. Within a week, I had the worst acne of my life. I'm pretty sure that the oil in the foundation irritated my sensitive skin... and the fact that I'd go to sleep with my face on likely didn't help, either. After that, I started to invest in my skincare routine instead of my makeup bag, and haven't looked back since. Well, kind of.
Being in the beauty industry means that I'm fortunate enough to try some of the coolest innovations in the market. And now that we're in the post-Fenty Beauty era, there are a ton of foundations that flatter my dark brown complexion. I'd just prefer not to wear them. Unless I'm doing a complicated eye makeup look or I really want my highlighter to stand out — like if I'm spending a day a festival — it's just not necessary. I'm in a good space with my skin, and don't want a repeat of the ninth grade. But if a situation calls for coverage — like if I'm on camera — then I do like to hide my under-eye circles and spots as much as I can.
Want to know how? Read on for my favorite tinted moisturizers, concealers, and powders that give me coverage... without the caking up.