This New Beautyblender Hack For Glowing Skin Will Change The Way You Apply Foundation
Matt Winkelmeyer/Getty Images Entertainment/Getty Images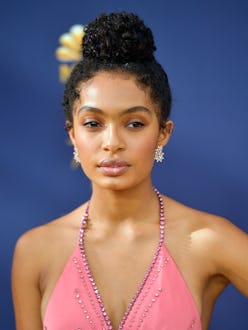 The 2018 Emmy Awards brought its A-game in fashion (looking at you Tracee Ellis Ross), but the beauty looks weren't to be missed either. How do those stars always look so glowy? You may be surprised to learn that the makeup artists to the stars are using the same little pink tool that you may already have in your medicine cabinet or can easily pick up for $20 — yes, it is the Original beautyblender. However, how they are using it to get red-carpet ready looks like Yara Shahidi's glowing fresh face might not be in your bag of tricks just yet. So on that note, here's the breakdown of the beautyblender hack in all its simple, easy-to-recreate glory.
Using what has become a beloved beauty item (with 11K reviews and 280K "loves" on Sephora), makeup artist Emily Cheng began the makeup prep on Shahidi with the Original beautyblender. Though you may be familiar with the blending technology of the tool (wet, squeeze, and apply) the key to a lasting glowing look (and this beautyblender hack) lies in the step before you even start the foundation application process. Cheng didn't just wet her Original beautyblender with water, though — she soaked it in SK-II Essence. Cue the insider tip: By saturating it with the essence, it provides an extra layer of hydration that allows the foundation to go on more smoothly.
This added hydration provides the base for creating a glowing makeup look. After this step, Cheng used the Original beautyblender to press in a mixture of Bobbi Brown Long-Wear Weightless Foundation SPF 15 in golden honey and warm almond, giving Shahidi a warm, natural glow.
To further blend Shahidi's makeup and reduce shine in her T-zone, Cheng utilized beautyblender's new product, the Power Pocket Puff, to apply Bobbi Brown's Sheer Finish Pressed Powder in golden orange.
On Shahidi's cheeks, Cheng went for a natural flush look by adding a burnt cherry lipstick hue from Bobbi Brown (friendly reminder that lipstick doesn't just have to be for your lips) that she applied with the Original beautyblender. For the grand finale, Cheng capped off Shahidi's complexion by highlighting and contouring with Bobbi Brown's Bronzing Powder in deep and Shimmer Brick in nectar to really make her shine on the red-carpet.
Shop all of the products below to get Shahidi's glowing complexion for your next big night out.