The $60 Beauty Supplement That Gives Me Long & Healthy Hair
Moon Juice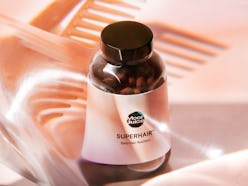 The sun is finally (consistently) shining, my backyard is bursting with waist-high wildflowers, and I have a vision of spending my summer frolicking among them in boho-chic dresses as my hair flows behind me in loose, long waves. The catch: My hair currently stops at my shoulders. I'm not about to let that ruin my idyllic summer plans, though — I'm determined to grow my hair out with the help of a few key length-boosting ingredients and some expert advice.
It starts with the basics: understanding how hair growth works in the first place. "The hair on your head grows in a cycle," Dr. Dominic Burg, a biologist and trichologist, tells The Zoe Report. "It doesn't grow forever, but rather in a pattern of growth, rest, fall, and then regeneration." He explains that the hair growth phase lasts about seven years, regression lasts a couple weeks, and the rest period stretches out over three months. "At the end of the rest period, a new hair follicle is formed from stem cells living in the scalp, and this new hair pushes out the old resting hair, leading to hair fall," Dr. Burg says. (Quick question: Why didn't they teach us this kind of fascinating stuff in AP Bio?)
This process is staggered for every hair follicle on your head, so they're not all resting, regressing, or growing at the same time. "The hair cycle process is controlled biologically by a delicate balance of signals and it can be upset quite easily," the trichologist says. "This means that when your body is under stress or when you don't have enough nutrients, the body will change the hair cycle and shut down the hair follicles to preserve energy. That sends it towards your brain, muscles, and heart. Your hair will enter rest and will shed and regrow once the stress is removed." In other words: The less stress in your life — and the more nutrients in your diet — the longer your hair.
Besides amping up my go-to stress-relieving activities (like meditation and yoga), I just added Moon Juice's new SuperHair supplement to my daily lineup, since it "addresses stress from within," as the brand explained in the press release.
"Chronic stress can wreak havoc on the body and is a major factor when it comes to hair loss," Amanda Chantal Bacon, the founder of Moon Juice, tells TZR. "Adaptogens help manage your body's response to stress, reducing its impact on the health of your hair — from everyday influences like work and deadlines to pollution and environmental exposure." SuperHair relies on ashwagandha and ginseng to help the body regulate stress, and also includes more traditional hair health vitamins like biotin and horsetail to promote "thicker, stronger, healthier hair," according to Bacon. It even functions as a daily multivitamin to provide the basic nutrients your body needs — iron, zinc, and vitamins A, B12, and C — to keep the hair cycle moving along (among other things, of course).
With general nutrition and stress levels covered, boosting hair growth comes down to addressing the literal "root" of the issue: the scalp. "The health of your scalp plays a huge role in the health of your hair and is truly the source for longer, stronger hair," Jess Hatzis, the co-founder of Frank Body, tells The Zoe Report. "If your scalp is riddled with product build-up and dead skin cells, your hair health and, in turn, its growth, will suffer." The skincare brand just entered the hair care market with its Stimulating Scalp Scrub and Go Longer Mask, both infused with ingredients to address scalp health and promote growth. "This is skincare as hair care," Hatzis explains.
I've only used the Stimulating Scalp Scrub once so far, but I'm already hooked on its exfoliating coffee grinds. "Caffeine is an incredibly powerful ingredient, stimulating blood flow and follicle activity," Hatzis says. Also inside: eucalyptus and rosemary to "remove product build-up, detoxify the scalp, and reduce inflammation." Even better than the scalp scrub, in my opinion, is the Go Longer Mask. "What's particularly different to traditional masks is that it's lightweight and designed to be used from root to tip, ensuring the scalp is hydrated and healthy," the founder shares. With my follicles scrubbed and soothed, I'd say my hair is well on its way to waist-length status.
Dr. Burg adds that oftentimes, slow-to-grow hair can be traced back to an overabundance of something called "fibroblast growth factor 5," or FGF5, in the body. "FGF5 is often referred to as the hair growth master regulator: Too much FGF5 means that there is more hair fall and slower hair growth," he explains. "In a number of clinical studies, treating the follicles by blocking FGF5 increases hair growth by up to 20 percent." To that end, I'm adding products from évolis Professional to my summer shopping list — it's the only product line formulated by "hair biologists" to speed up hair growth by taming excess FGF5.
Other ingredients to look for, per Dr. Burg, include natural anti-inflammatory and antioxidant substances that fight pollution and oxidative stress, since both can slow the hair cycle. "I recommend avoiding products that contain harsh chemicals and unnatural ingredients," agrees Helen Reavey, a hair stylist and the co-founder of scalp care brand Act + Acre. Her products are already staples in my hair care routine, since I know I don't have to worry about the quality of the ingredients inside — Act + Acre uses only cold-pressed, natural actives; like baobab oil to supply hair follicles with the necessary nutrients, and antioxidant moringa oil to strengthen the hair shaft with amino acids.
"I also highly recommend head massages... both for your own enjoyment and to stimulate the hair follicle," Reavey adds. And with that, my plan to grow my hair out (and thoroughly enjoy the growing out phase, for once) is complete.
Ahead, the nine products I'm adding to my summer hair care regimen to make my dream of flowing, waist-length waves a reality.
Shop Growth-Stimulating Hair Care