The Surprising Ingredients You Need For Longer & Stronger Hair
Photo by Daniel Berehulak/Getty Images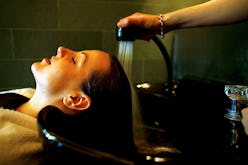 "Perfect" hair is subjective — some might think that means the perfect curly bob, but others may have visions of luscious, thick strands. But sometimes factors that can't be controlled, like age, genetics, and hormonal changes, contribute to the opposite of what you want your hair to be. If you're struggling to get longer and stronger hair, a hair growth shampoo could do the trick. The biggest factor in choosing them, according to the pros, are the ingredients in the formula.
Read more: How Microneedling For Hair Loss Leads To A Head Full Of Healthy Hair
"The best way to address hair loss or a hair growth issue is to use a holistic approach that takes into account your hair's needs as a whole — internal and external factors that could be affecting your strands should be optimized," Anabel Kingsley, consultant trichologist and brand president at Philip Kingsley, tells TZR. "Your stress levels, general health, nutrition, thyroid hormone levels, and genetic susceptibility should all be investigated. There is no one-size-fits-all treatment for hair loss, as the causes can and do vary from person to person."
But before you switch up your hair routine, assess which ingredients are most effective. A few common ones are ketoconazole, niacin, saw palmetto, and biotin, says Mia Santiago, a celebrity hairstylist who works with Mariska Hargitay. And Takisha Sturdivant-Drew, who works with Kerry Washington, likes to use shampoos with multi-fruit extract, pantheons, and natural oils like lavender.
With the right cocktail of ingredients and increased washing, you should start seeing results after approximately two months, Santiago notes. But don't get encouraged if it takes longer — it's all a matter of trial and error. "Being consistent is key!" she says.
Ahead, learn more about the best shampoos to suds up with (and what they're made of).