This Trendy Superfood Just Got Kourtney Kardashian's Stamp Of Approval
Jesse Grant/Getty Images Entertainment/Getty Images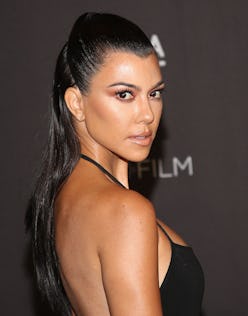 These days, it seems like every five minutes there's a new superfood or supplement on the scene aiming to kick your health into high gear. Admittedly, many don't carry the clout to stay popular for very long. However, the ones with truly transformative properties can withstand the test of time. Case in point: the amla berry and its plethora of benefits. The superfruit has been a mainstay in Ayurvedic tradition for decades — nay, centuries — but has had a resurgence of sorts thanks to a couple A-list fans, including one Kourtney Kardashian.
Yes, recently the reality star touted her love for the amla berry in an Instagram post, stating that the ancient super fruit was a star ingredient in her latest health endeavor, a collagen powder with wellness giant Vital Proteins. "Collagen has been an important part of my wellness and self-care routine for years," wrote the lifestyle guru and Poosh founder in a caption to a photo featuring her sipping a berry-colored drink. "So it only seemed natural to have @poosh's first collab be a collagen powder (and I've added some extra favorites of mine like hyaluronic acid, amla fruit and ashwagandha). I've worked so hard on this to make it perfect — from the taste, to the ingredients." Considering amla is relatively unknown to most, the post immediately begs the question: What's so great about the amla berry that makes it a crucial inclusion in more and more wellness products, and why is it picking up steam now?
"Amla has been around forever, but I think it's trending now because we are seeing the ingredient used more and more in more health and wellness items," says Robin Shobin, founder of HALO Sport (which also harnesses the berry's benefits in its performance elixirs) to The Zoe Report. "From collagen powder to topical beauty products [...] You will find amla in things like Moon Juice powders to topical beauty serums." Indeed, the superfruit has long been a medicinal marvel for centuries. "This really powerful superfood dates back to ancient Indian Ayurvedic rituals," explains Shobin. "It's incredibly high in antioxidant value and is 75 times more powerful than goji berries and pomegranate, as well as 50 times more powerful than blueberries. According to experts, it benefits the heart, liver, gut and brain."
And that's just the beginning of the wellness journey the amla berry can send you on. To prove it, ahead, find some more ways the superfruit can do a body good, as well as how to consume it on the regular and some precautions to consider prior to jumping on the bandwagon. It seems the Kardashians might be onto something.
All The Amla Benefits
As stated before, the amla berry is an antioxidant wonder — so it's worth saying twice. "[Amla berry's] antioxidant content is very high in vitamin C and other phytochemicals (all of which are antioxidants), which allows it to promote immune system function, help reduce risk for disease (especially cardiovascular disease), and provide other specific treatment options for the berry (it's often used in treating respiratory disorders such as tuberculosis and asthma)," Los Angeles-based nutritionist Lauren Cornell tells The Zoe Report.
In addition to its antioxidant properties, amla berries hold other significant medicinal powers that can keep your body in line. "Studies have shown an increase of white blood cell count (immune system response cells) in individuals with continued ingestion of amla berries," says Cornell.
On top of all that, it seems the Indian gooseberry can also be the ticket to the best hair and eyesight of your life. "It's often used in Ayurvedic medicine to help promote hair growth and scalp integrity," Cornell explains. "And the juice of the berry has been used for centuries to preserve eyesight and help stave off eye complications (though I would caution the use of fruit juice for diabetics with concern for eye conditions as this may raise blood glucose levels if not consumed in moderation)."
How To Consume It
For those who like to enjoy their nutrients in their rawest forms, you're in luck. Cornell says you can "slice the fresh fruit and sprinkle salt on it for dimension of flavor or try dried amla berries as snacks. You can also boil amla berries with salt and turmeric to create an anti-inflammatory tonic or tea-type of drink and to enhance flavor." And if you fancy yourself a chef of sorts, try an amla chutney with which to top meats and other foods!
And if the idea of drinking your vitamins is more up your alley, "a lot of studies have experimented with amla berry juice mixed with honey and show efficacy in treatment of various conditions with that combination," says Cornell. "This will also make the juice more palatable." Amla powder is also a worthy option as it can be "mixed with water or liquid as an easier way to consume the antioxidant-rich ingredient daily," she adds.
Who Should Avoid It
As fabulous as the benefits of the amla berry are, the superfruit is not for everyone. As you would with any new health supplement or diet, always consult with a doctor prior to diving in. According to Cornell, this is especially crucial for:
individuals taking anticoagulants
those who are immunocompromised
individuals with low iron levels or iron-deficiency anemia
those with hypoglycemia or diabetics in general
people suffering from hypertension or renal conditions, as amla may negatively affect blood pressure levels