Kristin Ess Launched A New Category At Target & It's About To Change The Way You Wash Your Hair
Courtesy of Kristin Ess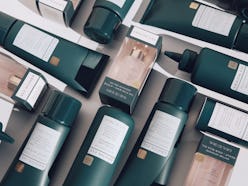 While there's typically a lot of fuss made over faces and how to give your skin the TLC it needs, it sometimes seems like your tresses are left to fend for themselves. The occasional deep condition or damage-preventing styling spray are better than nothing, sure, but are you really doing all you should to ensure a happy head of hair? If you're trying to treat your locks to some extra love, you'll want to snag all of Kristin Ess' new scalp products at Target — because getting to the root of the matter will prove to be the most effective approach.
Celebrity hair stylist and all-around strand whisperer Kristin Ess has been helping to create gorgeous, healthy hair that's accessible for all via her affordable line at Target, and on Jan. 4 she expanded her collection to include everything you need for a happy scalp.
The five-product launch, which came about in part due to fans' pleas, includes a scalp-soothing solution for nearly every step in your routine and will run you less than $15 a pop. That's good news, especially now, when winter weather may have you feeling dry and flaky, but your New Year's resolution to save money stops you from dropping a ton on beauty buys.
Aside from the budget-friendly price, Ess' products are particularly appealing because they're so different from other scalp-care options out there. Take the new collection's Instant Exfoliating Scalp Scrub, for instance. The $14 scrub stands out from the rest, Ess says, because she opted for one major ingredient swap.
"Most of them are made with salt— which is a great choice," Ess tells The Zoe Report in an email. "However, I went with sugar because during testing I found that it was more moisturizing and that's what a lot of my scalp collection focuses on." That way, not only are you sloughing away dead skin cells and icky build up, but you'll also be restoring balance on the surface of your scalp to prevent future flaking. A total win-win, right?
And if you're a fan of using micellar water to gently cleanse your face, you'll want to grab the collection's new Scalp Purifying Micellar Shampoo, $12. How does it work, you ask? As Ess explains, "Micelles, if you can imagine, are tiny molecules that are designed to pick up dirt, oil and buildup like a sponge. Then when you rinse the shampoo, that little sponge carries those things away." And thanks to the super-rich lather, Ess says using the micellar shampoo is actually less work than a regular shampoo. If you're all for streamlining your shower routine, it's a must-try.
The scalp-care line also features the Anytime Anywhere Scalp + Hair Milk Oil, a $14 hydrating and rejuvenating hair treatment that can be used on wet or dry strands, and the Weightless Hydration Daily Scalp + Hair Mask, $14. Both are formulated for use whenever your hair feels itchy and dry (basically, they're your new best friends this winter). And, you know those cool bubble masks you've been seeing all over? Ess formulated one for your hair, that foams up and instantly removes excess dirt, oil, and flakes.
When asked which new product ranks as her favorite, Ess forgivably can't choose. "Everyone always asks me this and it's truly an impossible question to answer," Ess tells The Zoe Report. "I hate to sound cliche but trust me— they're all your favorite when they're saving your from itchy, dry, flaky scalp!"
And considering the current season tends to have tresses drier than usual, you'll likely agree with her. Shop the entire new collection below, and keep an eye out for even more strand-saving goodness from Kristin Ess in late January — rumor has it they're based directly on fan requests.