Priyanka Chopra Just Debuted The Longest, Glossiest Hair
Benjamin Lozovsky/BFA/Shutterstock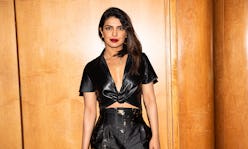 While the summer was all about short, sleek bobs, it seems as if a drastically different hairstyle is gaining steam as a new celebrity-favorite. What was once a style solely associated with glamorous pop stars and Las Vegas residencies (hello, Cher!), has officially become trendy again. Priyanka Chopra's waist-length hair is a prime example of how to style flowing, super-long lengths with plenty of shine.
As she walked the red carpet at JBL Fest in Las Vegas over the weekend, Chopra opted for a new accessory: ultra-long, sleek extensions in the perfect copper hue. Although the actor has sported long hair for most of her career, this marks the first time Chopra has experimented with a waist-length look.
To emphasize the glitzy ensemble, Chopra paired her new hair with a cream mini dress with a bustier-style top and an embellished fabric. She finished off the look with PVC pumps (a trend that every celebrity from Queen Letizia to Rosie Huntington-Whiteley has tried out in recent weeks) and a sparkly, metallic wristlet.
Chopra opted for a simple — but bold — makeup look: Her iconic brows were the center of attention, as her minimal glam focused on radiant, glowing skin, neutral eyeshadow, and matte lips.
Over the past few months, Chopra has been photographed with similar hairstyles, but this is the first time she's experimented with extensions this long. When she wears it down, her dark hair usually sits just past her collar bone, styled in a volume-infused blowout or loose, undone waves.
It's very likely that the 36-year-old pulled hair inspiration from her fellow celebrities, as many actresses, singers, and influencers alike have plenty of experience when it comes to super-long lengths. Big names like Vanessa Hudgens, Kourtney Kardashian, and Jennifer Lopez are all too familiar with the trendy hairstyle, both on the red carpet and while out and about.
Whether you're planning on investing in expensive extensions or not, recreating Chopra's glossy, shiny texture is easier than you'd think. The most important part of her look? The right products. Ahead, shop some of The Zoe Report's favorite creams, serums, sprays, and oils to make your hair as soft as silk.
Shop The Look