This Hobby Is Said To Have The Same Stress-Reducing Effects As Meditation
Karina Romanenko/Shutterstock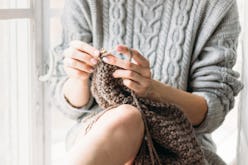 Knitting has made a huge comeback as of late, and when you consider that nearly 80% of Americans deal with stress on a daily basis, the popularity of the pastime should come as no surprise. Yes, all that looping and purling has made the hobby a top solution for soothing nerves. And while it's not exactly news that knitting is a common relaxation option, the question of why —or how, rather — remains somewhat unclear. What exactly happens to the brain and the body during a quiet knitting session that makes one feel like they just did yoga for an hour?
"The repetitive motion of knitting induces your body's relaxation response, lowering your heart rate, blood pressure, and muscle tension," explains Toni D. Kim, a licensed psychotherapist based in New York City. "Repetitive activity also lowers brain-wave frequency and can have the same effects on the brain as meditation."
Elizabeth Thorpe, an avid knitter from Maine, says that she picked up the craft in order to deal her own anxiety. "I taught myself how to knit in college," she recalls. "I went to school for fashion design in Los Angeles, and we had 10-week courses — it was extremely stressful. I would knit in bed on my days off while watching reality TV to decompress from my crazy week."
Eventually, her hobby evolved into Woodboogah, a company that produces and sells handmade cashmere beanies. Despite the fact that she now knits for a living, Thorpe swears the activity still calms her nerves by "110 percent." She adds that whenever she picks up the needles, "I completely forget what I was stressing about in the first place."
This can also be due to the fact that, although knitting is repetitive, it still takes a certain level of concentration. "Knitting enables a person to distract themselves from and restructure patterns of thinking that may contribute to anxiety," explains Kim. Plus, working with your hands and touching the materials help you focus on your senses — not your anxious thoughts. "An added benefit of knitting versus other forms of stress relief is the tactile, tangible, and concrete nature of the activity — it can be very grounding for a person," she says.
Alberto Bravo, co-founder and creative director of We Are Knitters, has helped build an entire community around the activity. The company sells kits, shares tutorials, and encourages conversation among over 600,000 knitters of all skill levels worldwide.
"We frequently receive comments on our Instagram posts about how people use knitting as a way to de-stress," Bravo says, pointing out that time spent knitting is time spent unplugged from our tech-crazed lives. "It's a moment to disconnect from social media, the internet ... and any device with a screen, actually."
Bravo adds that in addition to quieting and calming the mind, knitting also takes some brainpower. "After all, it is a very mathematical activity," he says. "You need to count stitches and rows all the time, make increases or decreases, change from one stitch to another, etc."
While knitting can certainly yield some gorgeous results (throw blanket, anyone?), the We Are Knitters co-founder emphasizes: The focus should always be on the "journey, not the destination." In a recent survey, the company found that 65% of participants said they started knitting because of stress issues, a substantial majority over those whose primary goal was to create their own garments.
Regardless, there is something to be said about the feeling of accomplishment that comes with a finished product — especially one that's as useful as it is beautiful. "Finishing a knitting project may elicit feelings of confidence and competence in a person, which could be transformative," Kim explains.
Ready to pick up the needles and yarn and give this stress-relieving hobby a whirl? Grab yourself kit and make sure you keep Thorpe's advice in mind: "It doesn't matter where you begin or how you begin, just start knitting and have fun."