These Haircuts Are Going To Be Everywhere Come Spring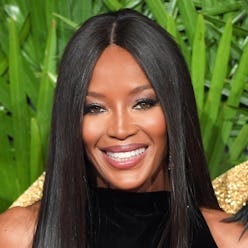 If you're still rocking the same hairstyle you wore in college (or even last year), it's time to switch things up. We get it though—it's not easy committing to a new style, let alone finding one that's on trend. To spark some much-needed inspiration, we're rounding up the haircuts that will be everywhere this spring. Pick the one you like the most and take it to your stylist STAT. You'll be glad you did.
Cher Hair
Cher made it mainstream, Kim Kardashian West and Naomi Campbell modernized it and now everyone will be wearing it IRL. Add extensions if you need extra length (don't we all?).
Curtain Bangs
Late last year, curtain bangs had a trending moment on Pinterest, but now that beauty junkies have gathered their inspiration, you'll see them finally committing to the fringe. Who doesn't love cascading, parted-in-the-center French-girl fringe?
Shorter Bobs
The bob is officially back—no more long in the front, shorter in the back business. For the perfect look, have your stylist go shorter than you might be used to. It should hit somewhere around your chin.
Medium-Length Cuts
In the past, you either had short, shoulder-hitting hair or long, waist-length hair—there was never an in-between. This spring, medium hair is the refresh your look has been needing.
GQ-Inspired Pixies
Menswear-inpired pieces have had their time in the spotlight, now it's time the look translates to beauty. If you're going really short this spring, try a tomboy cut á la Scarlett Johansson.
Last Year's Shag
The shag was one of the biggest cuts of 2017 and it's sticking around for 2018. This year, it takes on a more grown-out look. Just make sure to get a trim so it looks fresh.