Make A Major Statement In Your Living Room With This Foolproof Design Tip
Photographee.eu/Shutterstock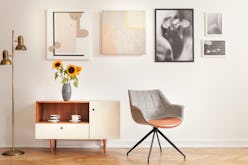 There's more than one way to freshen up your home for the new year. For some, it's simply a fresh coat of paint while for others it's doing a thorough cleaning and reorganizing. But if you're looking for something that has a bigger visual payoff, you might want to consider investing in some key statement home decor pieces as a way to amp up any space.
It should be noted that the term "statement piece" can mean something different dependent on your personal decor tastes — so even minimalists can still find ways to create a bit more drama by strategically shopping for their furniture, lighting, and even smaller decorative pieces that can actually give quite an impact. That said, it doesn't have to mean adding in a neon-colored, avant garde armchair if that doesn't fit your aesthetic (but more power to you if that's exactly the kind of piece you've been seeking).
Based on some tips from interior design experts, there's an ideal way to make a statement in your home no matter what you're into — and maximize your investment, too. As co-founder and Chief Product Officer of Burrow, Kabeer Chopra knows that it takes more than just the wow factor to take your decor to the next level. Whether or not you want to try some of the biggest trends for 2020, or prefer to spend your money on a piece that's built to last throughout your seasonal switch-ups, he's got some tips to help you find your own way to create a dramatic focal point in any room (even if your style is on the subdued side). Read ahead for his best suggestions to keep in mind when shopping for a splurge-worthy statement piece.
Don't Forget About Functionality
"In 2020, decor should be about the best of both worlds: Fashion and function," says Chopra. His advice? Find pieces that serve a dual purpose — like a coffee table that offers some storage — as well as take your lifestyle into consideration, like a stain-resistant rug if you've got pets or kids or love to host a party.
Mix It Up
"Don't shy away from mixing time periods or aesthetics," advises Chopra, who points to shopping vintage pieces as an option for finding something truly unique. "If you track down a great vintage piece, work it in with more modern decor by matching other aspects like the fabric, wood, metal, etc. An ornate vintage light fixture can easily freshen up a room with midcentury modern furniture if it's a neutral or matches at least two other pieces in the room."
Play With Color & Pattern
According to Chopra, Pantone's Color of the Year Classic Blue is a great place to start if you want to play with injecting some more color into a room (as are the other color trends for 2020). "Experiment with new hues and patterns for an even bigger statement moment," he says. In addition to starting small with throw pillows and blankets, you can also try something even more bold, like covering a wall with removable wallpaper. Pro-tip for minimalists: Choose a dynamic pattern or texture but in a neutral hue, so it doesn't feel too overwhelming.
Make A Statement With Art
Your wall art is a great way to make a statement, since it allows you to keep the rest of your furniture and fixtures relatively low-key if you like. Plus it can be easily moved to switched out (unlike something big and bulky like a sofa) when you're ready to make a change. It's also a great way to incorporate even more color.
Consider Custom
If it's in your budget, getting a custom piece — like a modular sectional that you can make your own — is totally worth the splurge, as you can be sure it suits all your lifestyle and decor desires. Plus, it's less likely that anyone else will have the same one.