Next Year's Biggest Color Trend Is Actually So Versatile For Your Home
Photographee.eu/Shutterstock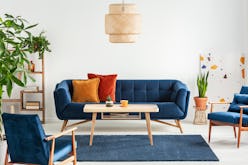 If your home decor situation could use a little update, perhaps a great place to start is with 2020's color of the year, Pantone's Classic Blue. Every year, the brand predicts what hues are new and next in all areas of design — from the off-the-runway fashions to a vase you pick up at your favorite home goods store. And if this year's shade seems sort of familiar, there's a good reason for that.
According to Pantone, Classic Blue is dependable and stable, which also means it's likely to give you a calm feeling and a sense of connection when you see it. That said, if you're looking to start the new year off stress-free, a few touches of the hue around the home sure wouldn't hurt. And don't worry if a major overhaul isn't in your budget: With Classic Blue popping up all over the place, it's easy to find pieces in a variety of price ranges. Make a big statement by swapping in new furniture, or start small with design details like throw pillows or even your wall art and lighting.
One of the best parts of Classic Blue, unlike some of the biggest 2020 home decor trends, is that it's actually so versatile regardless of your home's aesthetic or even your current color palette: It's saturated yet soft, and grounded enough to feel like a neutral while still adding a little more life to any space. And if you're not sure how to find the perfect shade in a sea of blue, just imagine the evening sky (somewhere between sunset and midnight). Want a little more help finding the ideal piece for your home? See ahead for some ideas that will give you a fresh, grounded start to the new year.
This armchair from World Market hits so many marks: It's comfortable and soft, but still offers clean lines that minimalist enthusiasts will love. And the shade instantly gives a feeling of calm.
Art is such a great way to try out a new color, since it's easy to rotate in and out. This night sky photograph is pretty much the perfect way to add a little Classic Blue anywhere in your home.
Want something a little more exciting than a solid? Find a print (accent pillows are perfect for this) that prominently features Classic Blue and you'll still get the effect.
Sure, a sofa is a big investment. But if you're in the market for a new one, don't overlook Classic Blue as an option — it plays surprisingly well with other colors.
It's easy to overlook lighting as a way to change up your decor. This set of lamps would be great for symmetrical nightstands in your bedroom.
This overdyed rug is a great way to try Classic Blue in a more unexpected way.
Looking to get a better night's sleep? Upgrading your bedding is one way to do it, according to experts. This organic percale set gives you the sense of calm visually from the color, and you'll rest better with the soft, eco-friendly fabric.
Since Classic Blue gives a sense of grounding, combining it with earthy materials — as is the case with this agate candle holder — only enhances the effect.
Though the color is comfortable and familiar, there are ways you can still make it feel bold. Go for a blown out pattern, like the one on this removable wallpaper. That way, it's simple to swap out when you want to try something new.