Even Wallpaper Skeptics Can Tackle The Trend With This Foolproof Tip
Photographee.eu/Shutterstock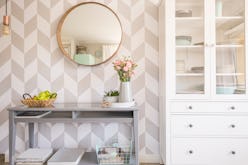 There are just some home decor trends that look perfect in pictures, but are hard to imagine implementing into your space logistically. For some, it's ultra modern furniture or fixtures, for others it's a bold, of-the-moment hue (like neon green or bright fuchsia). But if adorning your walls is the area you feel especially wary about, designers are here to tell you it's easier than you think. And with a few expert tips on how to choose wallpaper for your living room, transforming this communal part of your home doesn't have to feel so intimidating.
Wallpaper has been a major home decor trend for a few years now — and with tons of seriously good removable options, you can even try it with less commitment than ever before. And due to the fact that it can work as a totally impactful design element in any room, it might be worth giving some thought — even if you're not totally sure where to start. "Wallpaper is such a lovely layering element," explains Los Angeles-based designer Stefani Stein, who also has created her own luxury wallpaper line, August Abode. "It can add tremendous warmth, depth, and texture to a space."
So if you're looking for a way to accent your walls but need a little sage advice before taking the wallpaper plunge, read ahead for some tips from a few experts that should help you hone in on the one that will perfectly suit your space.
Stick With Similar Tones
"For those just warming up to the idea of wallpaper, try incorporating a more subtle selection," says Stein. "Tonal variations, muted geometrics, and printed grasscloths are fantastic options for adding visual interest to your living room, without overwhelming the other aspects of the space."
Coordinate With The Other Textures & Materials
"Always consider wallpaper in relation to the other materials and the mood of a space," Stein suggests. From printed grasscloth to woodgrain or cork, you can actually use wallpaper to add to the overall mood of your living room when you coordinate with other like materials (even if it's faux).
Start Small (Scale)
Stein advises literally starting small — with your pattern, that is. "A small scale pattern can add a bit of visual interest, but from afar reads as a solid," she says. "This combination works especially well in older spaces or paired with more traditional architectural details." This micro-peony print is a perfect example, and it's a cool, modern take on traditional floral motifs.
Think Of It As An Art Piece
Think you can handle something a little bit bolder? Designer and artist Windy O'Connor suggests looking at your wall like a mural, in other words, shopping for your wallpaper as you would a piece of art. "Go for larger patterns or a mural paper as they look more custom and modern," she says. This painterly watercolor print is subtle but still makes a statement — plus it's removable so you're covered if you decide to switch it up in a few years.