Not Into Classic Blue? Try These Other Pantone-Approved Colors In Your Home For 2020
Photographee.eu/Shutterstock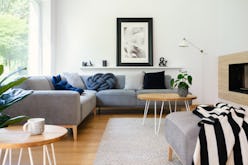 Every year, design enthusiasts turn to the experts at Pantone to learn the shades that are going to be pretty much everywhere — from the clothes hanging in your closet to the toothbrush holder in your bathroom. The leading color authority bases its assessment on the trends seen on the runway, and in the case of New York Fashion Week's Spring/Summer 2020 collections, it's singled out some hues that might also become some of the most trending home decor colors as well.
A few weeks ago, it was announced that Classic Blue, a deep and calming shade, was chosen for Pantone's Color of the Year. But if that one just isn't speaking to your home decor style, don't fret. There are a handful of others inspired by the recent runway shows that could be the perfect way for you to freshen up your space in the new year — whether it be simply by swapping out your bedding sets or investing in a statement furniture piece.
While some of last year's biggest hues, like Living Coral and golden yellow seem to be sticking around for 2020 (or at least very similar variations), other trendy ones — looking at you, lime green — are on the way out, making room for different bright and bold colors, as well as some more neutral and familiar ones. Pantone points out that if you like to stick to the classics, Lark (a low-key, versatile khaki), Navy Blazer, Brilliant White, and Ash will be especially big this year. But if you want to try something a bit more outside the box, see ahead for a few color trends the brand is predicting — plus how to nail using them in your home.
Faded Denim
Pantone calls Faded Denim "a relatable and dependable blue" which "conveys comfort and ease." Just like a great-fitting, favorite pair of jeans, this color should be super versatile, so it's great to use for larger furniture pieces, like a sofa or armchair.
Flame Scarlet
Pantone describes this orangey-red shade as exuding confidence and determination, so go ahead and use it boldly! If you want to start small, try a throw pillow, which is an easy way to add a little more pizzazz to a more basic bed, sofa, or chair.
Biscay Green
Pantone says that this aqua shade is "connected to cleansing waters," so use it anywhere you want to feel more peaceful and relaxing. An overdyed area rug is a great place to start.
Saffron
"Pungent Saffron adds a flavorful brilliance to the palette," describes Pantone. A perfect use of the color? A soft throw blanket you can use to accent some of your existing furniture.
Chive
This "savory herbal green" is earthy enough to act as a neutral in your home, so don't be afraid to shop big furniture pieces, like sofas and sectionals, in the shade. It'll work well with almost everything.
Orange Peel
"Piquant Orange Peel introduces a tasteful tang," says Pantone. For just a splash of such a bold color, try looking for art pieces that incorporate it. It won't feel as overwhelming as an bright orange armchair, for example.
Mosaic Blue
Ceramics are a perfect way to experiment with a pop of color that's newer to you, like this Mosaic Blue, which Pantone says gives an air of mystique.
Sunlight
This pale yellow is pretty much perfect for bedding, as it's said to "invite happiness, pleasant cheer, and a smiling presence." What better way to wake up?
Coral Pink
Coral is still around in 2020, but this shade is a bit paler than last year's Color of the Year. "Coral Pink wraps you up in a warm and welcoming embrace," Pantone says. Think of cozy pieces, like this pouf.