These Vintage Home Decor Pieces Make For Amazing Gifts
Khaled ElAdawy/Shutterstock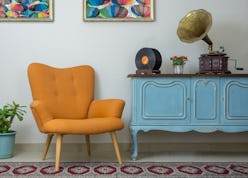 Holiday gifting can be rough. Every year, you try to outdo yourself in getting unique finds that will stand out in the minds of your loved ones for years to come. Yet, somehow, someway, the hectic pace of the season catches up to you and you end up handing out gift cards and cash. But this year will be different. This year, will be your time to shine with truly memorable gifts. And nothing says one-of-a-kind like a cool vintage decor piece that adds a special something to any room in the house.
"A vintage gift might not be for everyone but, for the right person, a vintage gift can be special, unique, and feel really personal," says Emily Henderson, home style expert, author, and creative director of Emily Henderson Studio. "I've always said that every room needs a little bit of vintage in it as it brings soul, character, and charm to the space. For the holidays, it's also a great option as you can find some really unique pieces at affordable prices that aren't just great gifts but also a bit more special than running to the store and buying something new."
So how does one find such a gem of a gift and how do you know that it is indeed vintage? According to Henderson, these pieces can be found everywhere from local flea markets to online retailers that focus on antique goods. "I love sifting through Chairish, Etsy, Everything But The House, Ebay, and even Instagram — some people have accounts in which they sell and collect vintage."
And while apparel and accessories have their own standards and authentication processes, when it comes to scoping out authentic vintage decor, it is all about the era in which a piece was made or manufactured, says Henderson. "If someone says it is vintage and it was made within the last 10 years then it probably isn't authentic, but just made to look retro," she explains. "If you are looking for vintage, check for markings under the piece of furniture or a stamp that indicates the maker and, most of the time, the year it was made."
If you're still scratching your head on what makes for a gift-worthy decor piece, don't stress. Even if you go small, you still have the ability to hit it out of the park due to the priceless and novel nature of your find. "For the holidays, you could gift a small piece of art (I am loving seascapes right now), a vintage tray (maybe include a bottle of wine with it), a set of vintage napkins or napkin rings, a unique candle holder or candlesticks — and a special vase is always a good option for everyone," says Henderson. (And bonus points if your antique has a story behind it!)
To help you get a leg-up on your gifting game, ahead you'll find 10 vintage decor finds that are total crowd pleasers for even the most hard-to-shop-for individual on your list.