The Edgy Art Trend You Can Incorporate Into Your Home Decor Now
Tappan Collective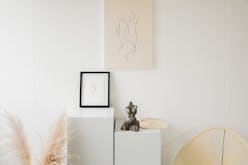 Whether you've committed to curating a collection or you're just on the hunt for a key piece to pull a room together, art can be a very tricky thing to shop for, given how subjective it is. Those who are avidly emerged in the scene might already have a wish list of work or artists they hope to invest in, but if you're looking for a good place to start, examining some of the current art trends could be a great jumping off point for finding the drawing, painting, or photo that's perfect for your taste and your space.
Because art can range from the affordable to serious splurge territory (and rightfully so, especially when you're dealing with one-of-a-kind or limited-edition pieces), it's important to follow your instincts and listen to your gut when selecting works you'll be living with. That said, just as is the case with fashion and interior design, learning about contemporary trends can expose you to styles you might not have otherwise come across and therefore can come in handy when you're actively searching for a new addition.
Both budding and expert collectors alike can really benefit from sources like Tappan Collective, which offers prospective art buyers everything they need from learning about emerging artists to getting their final selection framed. As an artist herself, co-founder Chelsea Neman Nassib started the venture as a means of making it more accessible to start a collection, even if you're a novice or working with budget restrictions. That said, who better to keep you informed on what's trending now? Ahead, find Neman Nassib's list of what subjects, media, and styles are especially popular right now — and hopefully it helps spark a passion for finding the next piece on your gallery wall.
Female Forms (By Female Artists)
Though one of the oldest and most timeless subjects throughout art history, the female body can take on a whole new meaning when captured by contemporary female artists, according to Neman Nassib. "The female form has been the center of attention through almost all art movements, but with the limited representation of the female gaze we have had a one-sided view of the subject for a long time," she explains. "Female artists' take on the body is a beautiful and empowering statement, and a great conversation starter." Because of the breadth of this subject, it also allows each collector to really find a style that most resonates — whether that be a classical or more modern approach.
Hyperrealism
Smart phones have decidedly made photography a whole lot more accessible, which might explain why hyperrealistic painting feels especially interesting and impressive these days. "We're seeing a lot more artists using this elaborate process to create work that feel innately intentional," Neman Nassib says. "The energy of the artist is brought out in the same way that using film in photography creates a very personal viewpoint."
Woven Materials & Textiles
"It's exciting to see organic mediums being used across the board in different ways," shares Neman Nassib. "For most of our artists they're using it to collage and create new forms, making the deconstruction of the original garment or material a part of their process. Their often soft and comforting textures tend to bring a warmth into the space they're placed in."
Because of the individual, one-off nature of collage, these pieces can be pricey. But if you love the look and are working with a small budget, try a DIY approach or hunt for similar styles on sites like Etsy where a ton of textile artists offer options for a wide range of prices.
Paint Over Photos
Another way to make photography feel fresh is with the addition of manipulation by-hand. "The continued fascination with in-real-life photo manipulation could be driven by our ability to edit media with few skills and a couple taps," Neman Nassib explains. "The permanence of something feels refreshing and bolder in a time where we intake hundreds of visual images daily." Tappan Collective artist Alice Quaresma works in this style if you're open to investing in an emerging artist, but creative types can also try crafting their own version.