The Unexpected Decor Piece Interior Designers Are Loving Right Now
Followtheflow/Shutterstock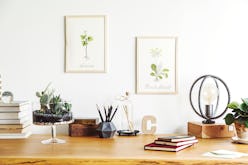 Many design-obsessed individuals look to trends to give them inspiration for everything from their latest pair of boots to how they stock their vanities. So why would home decor be any different? Just like with clothing and accessories, interior designers look to art history, fashion, and more creative sources to determine what's the next big thing that will make your home situation as a-la-mode as your wardrobe. And while it might be an often-overlooked item in your abode, a few lamp trends just might make you rethink lighting as a means to make your home fresher than ever.
Regardless of whether you're in the market for lamps of the floor, table, or ceiling variety, looking to some designer-approved trends might be a great resource to start shopping for the best one to suit your space. As a Bondi Beach-based interior designer and stylist, as well as creator of her own furniture and accessories line, Sarah Ellison knows that lighting is a decor tool not to be underestimated in creating brilliant design — and lamps are a major part of that. "Lighting is quite often overlooked in interior design but, done correctly, it can transform a space," she explains.
In addition to what they offer a space in terms of light, look at shopping for your next lamp the same way you would any chic home decor piece, like a piece of wall art or an artisan-made accessory — meaning, don't be afraid to get creative, think outside-the-box and try some of the latest trends, like vintage-inspired shades or sculptural shapes. And just because you're shopping the latest, designer-approved styles doesn't mean you have to spend a lot of cash. In fact, Ellison — whose personal aesthetic has a modern and earthy European slant — sources pieces from retailers with a wide variety of price points. "1st Dibs is my favorite place to find unique and vintage pieces, my favorite lighting designer is Lee Broom and for more affordable pieces I like Etsy. I'm a big fan of using 'up lighting' rather than unflattering 'down light' so any chance I get to use the light from lamps as oppose to down lighting from the ceiling I take. As a functional object, lamps offer mood and warmth and, aesthetically, they can bring drama and scale."
Pleated Shades
"The most exciting trend I'm noticing currently is a return to the pleated lamp shade," says Ellison. "It reminds me of my mother's lamps in the 1980s but has become much more elegant and refined for the contemporary market." While some modern versions are available through contemporary retailers, this vintage style is an easy one to find on sites like eBay, Etsy, and Chairish, which will stock authentic pieces from the '60s, '70s, and '80s — when this shade style was everywhere.
Sculptural Bases
"I'm also loving designers like Eny Lee Parker's handcrafted ceramic forms," Ellison adds. "Sculptures in themselves, these pieces are almost more like works of art than lamps and work really well for a curated and 'artsy' vibe." If you don't have the funds to get one of Parker's pricey pieces, look for lamp styles with a similarly sculptural, organically shaped base. Think of it as more of an objet d'art than a standard lighting source and get creative.
Mushroom Lamps
Popularized in the mid-20th century, this shape is back in a big way in terms of lamp design. In addition to being able to find a ton of vintage versions from the 1950s and 1960s, many brands and designers have created modern takes on the mushroom lamp, including this sleek version from Shades of Light.
Exposed Bulbs
As one of the creative forces behind Project Room, a cool, conceptual LA-based architecture and design firm, Isaac Resnikoff also frequently looks to lamps to add ambience and style to a space. One trend he's noticed of late is a reaction against over-designing, leading to pared-down, exposed bulb designs. "In an age of dematerialized, almost impossible LED lamps, it feels somehow reassuring to use a light that shows its bulb off, like the Parentisi lamp by Achille Castiglioni and Pio Manzu, or even a Juno Wireform track head (which comes in red!)," he says. But if you can't afford the real deal, look for similar styles, which are available at most home decor retailers.
Simple Geometry
Another trend Resnikoff is seeing also is inspired by the past — specifically from one of his favorite designers from the mid 20th century. "Of course we've been in love with Vico Magistretti's Atollo lamp for ages — and really everything Magistretti feels very on trend now — but we're spec'ing a lot of simple geometric lamps these days in general," he explains. "The Sonora Pendant by Magistretti has a similar hemispherical shade, and the Dioscuri wall/ceiling light by Michele De Lucchi feels like a sphere of light is somehow just magically kissing the wall." For a lookalike version at a fraction of the price, try this minimalist sphere lamp by Italian designer Michele De Lucchi.