Give This 2020 Design Trend A Try To Totally Update Your Space
Photographee.eu/Shutterstock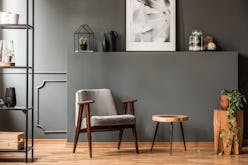 It might not be possible to completely overhaul your home decor every year (and why would you even want to?), but a few little tweaks might just satisfy your urge for a refreshed space in the new year. And what better place to find some inspiration for your next update than the biggest 2020 interior design trends? Home decor brands, design services, and interior designers have recently studied what people have been searching for, wish-listing, and buying — as well as the things they weren't so keen on — over the last year and the results say a lot about what you're likely to be lusting after in the coming months. What's more, the results just might surprise you.
Just as is the case in the fashion world, experts of the home decor industry place a lot of value on trend forecasts, with shoppers/clients seeing the results soon after. For example, Modsy recently unveiled its 2019 trend report, based on best-selling products and the not-so-great sellers as well the other things its clients seemed to want more of. Whereas curved and rattan furniture pieces appear to be on the decline, the research showed that you'll probably be seeing a lot more sculptural pieces, furniture designed to suit small spaces, and organic textiles in the near future.
But that's not all. Ahead, learn a bit more about nine trends that are about to be all over — perhaps one or more of them would be the perfect way to upgrade your personal space.
Minimalist Maximalist Design
"This trend is exactly what it sounds like — a style that plays with the unlikely combo of a minimalist's design principles and a maximalist's love of patterns, colors, textures, and all things over-the-top," says Alessandra Wood, Modsy's VP of Style. "You'll see pieces made of marble with beautiful, bold patterns. This creates a dramatic effect and an emotional reaction, but the space is not cluttered." One great piece to give you this effect is a colorful, patterned rug. You can keep the rest of your furniture neutral to balance it out and accessorize with a few more "maximalist" details.
Sculptural Furniture
"I'm personally super excited about the sculptural furniture trend, which takes functional pieces and turns them into works of art in and of themselves," Wood says. "It's all about distinct and unexpected shapes that give off post-modern vibes in a totally contemporary way."
Natural Materials
Modsy's research shows that people are still loving the addition of more natural materials, like jute rugs, and wood furniture and accents. Organic shapes, like this coffee table, can also enhance the effect.
Plant Paradise
According to Wood, you'll also be seeing the plant trend continue to grow (pun intended). "These plants run the gamut in shape and size, suggesting that maybe the once super eclectic jungalow trend is becoming a little more mainstream," she says. Don't have a green thumb? You can always go faux.
Simplifying Sofas
Modsy believes you'll see a major sofa trend this year — namely an increase in those in neutral colors, smaller sizes, and more clean, simple shapes. IKEA is a great source for these, plus they're so affordable.
True Blue
While neutrals are still in high demand, there are a few key colors that are nearly just as desirable — and one of these is blue, which Wood attributes to its calming effect. Not totally sold? Start out with a simple blue accessory, like a Shibori indigo dye throw pillow.
The She Shed
See you later, man caves. According to interior designer Karen B. Wolf, 2020 is all about the she shed. "I love a sophisticated and feminine space that feels like it was designed just for me," she says. "Co-living can be tough when it comes to designing your home, so when you have to compromise on so many other spaces, the she-shed feels like the perfect win-win." Even if you don't want a space to feel too traditionally feminine, a fun design point to consider is your lighting. A chandelier can make your she shed instantly feel like a luxurious place to spend some quality time
Favoring Function Over Luxury
"More than the luxury that statement furniture and finishes bring to a house, functional and easy-to-care-for materials offer another level of luxury to the home," Wolf explains. "With a hospitality minded approach, we love designing our clients' homes, especially those with kids and pets, with stain-resistant fabrics and surfaces, as well as flooring and paint products that endure their busy lifestyles." Brands including Burrow and La-Z-Boy offer sofas and armchairs in stain and scratch resistant materials that are both beautiful and totally practical.
Mixing Old And New
According to Wolf, you'll be seeing more mixing of styles in the new year. Think mid-century pieces along side more bohemian ones. The designer particularly loves to blend traditional and contemporary elements for her clients. "Mixing old with new is a fun way to achieve a timeless design that will feel almost perfect for many years to come," she says. Playing with vintage pieces is also a great way to try this — and that can be as simple as hanging some vintage prints in an otherwise modern room. These two from Chairish also feature one of the site's trend predictions for 2020, verdant botanicals.