What Interior Designers Are Investing In This Spring
Amy Bartlam Photography for Kate Lester Interiors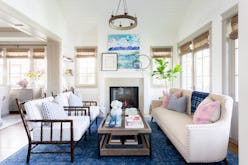 When you think of investment-worthy pieces, you probably focus on the aspect of versatility. With so many people trying to make every dollar count, it's easy to assume that any big ticket items you splurge on for your home need to be on the practical side. And while there's certainly truth to that, it doesn't mean that those functional furniture pieces or decorative details can't also feel stylish and personal to your design aesthetic. In fact, if you've got a budget for sprucing up your pad this season, there are plenty of designer-approved spring decor ideas that are just as chic as they are useful.
Whether it's the use of spring color trends (like yellow, Living Coral, and even lime green) to jazz up a neutral space, or playing with prints that feel especially fresh for the season, injecting some much needed new energy into your living room might be easier than you think — so long as you know what to look for. And according to Kate Lester of Kate Lester Interiors and Maureen Stevens of Maureen Stevens Design, there are five things in particular than can turn yours into a spring sanctuary. From the affordable to the splurge-worthy, you won't regret investing in these finds.
Pastel-Hued Ceramics
"Pastel-hued tableware and ceramics bring in the bliss of spring," Stevens says. "The hues remind me of French macarons and are just perfect for brunch in a courtyard. Think pistachios, orange cream, and muted berries."
Handmade Textiles
"At our studio we are currently obsessed with handmade, small-batch textiles for spring," Lester says. "Unique prints, and colorful palettes help infuse a breath of fresh air into living rooms just in time for the season's longer days and the start of entertaining season."
Additionally, the designer knows that shopping artisanal goods is also a way to differentiate your home from others. "There is also something wonderful about supporting small business and providing your clients with a product that is one of a kind or handmade — that no one else has," she adds.
Statement Art
"I think that every living room should have at least one really fabulous piece of art," offers Lester. "Spring is an amazing time to hit your local flea market or antique show, and invest in the perfect piece that will be the talk of all of your summer soirées." And if you need a suggestion for a specific style to look for, Stevens recommends going classical-with-a-twist for the ultimate spring vibes. "With abstract elements that also incorporate colors reminiscent of Monet's impressionist paintings, these Brutalist pieces are perfect for spring," she says. "Oozing with beautiful colors of a garden, they're reminiscent of spring fetes peppered with the nostalgia of a classic piece."
Double-Duty Pieces
"Spring means more sunny days, and that means more entertaining at home," Lester explains. "More people inevitably means less space, so in spring and summer we want coffee tables that double as ottomans, writing tables that double as nightstands, or side tables turned magazine holders. In this day and age, I think that everything needs to be multi-functional."
Colorful Patterned Flooring & Decals
"With fun shapes and patterns in any joyful color you can imagine, your floors will never be bored again and will undoubtedly make your space spring-ready," Stevens says. "I especially adore the ones with a trellis pattern, as they remind me of a stunning, vibrant garden!"