How 40-Something Celebs Maintain A Dewy Glow, According To Their Makeup Artists
Frazer Harrison/Getty Images Entertainment/Getty Images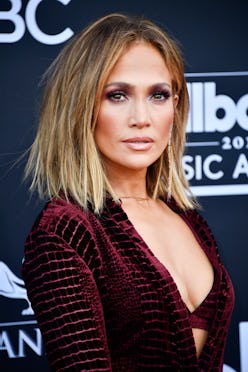 As you get older, things begin to change in ways both welcome and, well, maybe not so welcome. On the plus side: You may become more comfortable with yourself and your body, you have less patience for other people's drama. On the other hand: You're suddenly hit with a whole lot of "anti-" advertising. Anti-cellulite, anti-wrinkle, anti-aging — and the beauty tips you welcomed at age 20 seem ridiculous at age 40. And sure, some of those words may appeal to you, but it's important to remember that as you age, makeup is more about celebrating your beauty than hiding your perceived "flaws." And these makeup tips for women over 40 — straight from three major celebrity makeup artists — prove it.
Read more: How To Apply Blush To Lift Your Cheekbones & Contour Your Face
The Zoe Report consulted some of the biggest artists in the beauty industry — including Brigitte Reiss-Andersen, who works with Cindy Crawford and Michelle Pfeiffer; Scott Barnes, J. Lo's go-to guy; and Neil Scibelli, Elle Macpherson's makeup artist — to find out how they use makeup to enhance their clients' features. All three stressed the importance of skincare as the ultimate makeup primer. "Other than a good water intake, the best way to prime the skin is through a solid skincare regimen — and sunscreen," Barnes tells The Zoe Report. (He likes Sisley's line of skincare products.)
Another common theme? So-called "beauty rules" have no place your routine, no matter what your age. In the past, women with mature skin were discouraged from wearing shimmer or heavy eye makeup (both have been said to accentuate wrinkles), but not in 2018. "Luckily, I do think we're in a time that we're breaking rules because people are finding out what works for them," Scibelli tells us.
The one mistake that women over 40 might make is "overdoing everything," Barnes says. Instead of piling on foundation in an effort to mask fine lines, he maintains that less is more. "[Go for] simpler and more natural-looking" is what he recommends when creating a look.
Ahead, 12 makeup tips for women over 40 — including Macpherson's secret to sculpted cheekbones and how to get J. Lo's glow — without a single anti.
Smooth Out Skin's Texture With A Plumping Serum
"Mature skin needs to be smoothed in order to show radiance," Reiss-Andersen says. To prep her clients' skin for makeup application, "I like to use a good serum to fill in fine lines, followed by a moisturizer. I'm obsessed with the MM serums by Dr. Marmur. They're silicone free and never feel or act sticky, perfect for pre-makeup application."
Lighten Up On The Foundation And Concealer
"Less is more when it comes to makeup on aging skin," Scibelli says. "I think there's something really beautiful about one's skin peeking through their makeup or foundation, rather than completely covering it."
Barnes echoes the sentiment. "You want to work with products that are lightweight and don't dry out the skin," he says, recommending the Multimedia Foundation from his own line (a J.Lo staple).
Use Cream-Based Makeup To Hydrate And Create A Dewy Glow
"Obviously as all of us age, our collagen production slows down and so does oil production, so that can definitely make a difference on how makeup wears on the skin," Scibelli tells us. "I'd suggest using cream-based products like cream blushes and cream highlighters to bring that instant hydration and radiance."
Face Oils Aren't Just For Skincare
"I always make sure to carry face oils in my kit, because a drop or two of them on a Beautyblender really helps to blend and adhere product onto the skin — especially if someone is on the dry side," Scibelli reveals.
Accentuate The Sparkle In Your Eye
Instead of worrying about crow's feet or fine lines, play up the natural sparkle in your eyes to make them look more open. "A lot of my clients ask me to help to make their eyes look more defined or bigger, especially for TV," Scibelli tells TZR. "I use matte pencil eyeliners, especially along the lower lash line, to really define the eye-shape and even make the eyes look bigger. A trick I learned from Elle [Macpherson] a while ago is to warm up your eyes, you can always dab a little pink blush in the center of your eyelids. It really brings out your eye color."
Show Off Your Eye Shape By Curling Your Lashes
Reiss-Andersen uses a slightly different technique to bring out the eyes. "I always recommend accentuating the upper lash line to create a point of focus," she says. "Use a dark eye pencil and really place it among the lashes — don't be afraid to dig in there. Then smudge it with a small brush to soften the edge. Curl your lashes and apply black mascara. You will notice that the eyeshadow is no longer what will give the eye a shape — it is now only necessary as an accent of color."
This Setting Powder Keeps Cindy Crawford's Skin Matte But Radiant
"Powder is always tricky with mature skin because it can lodge itself in the fine lines," Reiss-Andersen admits, thereby dashing "any hope for radiance." "That said, loose powder is the best way to set any makeup for a long lasting effect. I have fortunately found a miraculously fine-milled powder that acts as a matting veil and no more — Koh Gen Do Maifanshi Lucent Powder."
Apply Blush To The Cheekbones — Not To The Apples
"With Elle [Macpherson], I love to create a really natural, radiant glow," Scibelli says. "So we love our cream blush to dab on the cheekbones and even upwards towards the temple. I always use a cream luminizing highlighter above her blush to add that dimension."
Makeup Looks Best On A Healthy Canvas
Celebrity makeup artists agree that makeup looks best on healthy skin — which begins from within. "Other than a good water intake, eat a healthy diet with lots of vegetables," Barnes suggests
"One thing I can say for sure that I've learned from Elle [Macpherson] is that what you put into your body really shows on the outside," Scibelli says. "Her Super Elixir from her WelleCo company really nourishes your body from the inside out, which ultimately shows up on your skin."
Don't Be Afraid To Overline Your Lips (Just A Bit)
"If the lips have thinned out a bit, don't hesitate to compensate by using a lip pencil to exaggerate the shape somewhat," Reiss-Andersen says, recommending that women "overline" their lips just slightly. "I either use a neutral shade or one that matches the lipstick."
Skip The Glitter, But Say Yes To Shimmer
While Reiss-Andersen admits that the "no glitter" rule is one that she does follow (but you certainly don't have to!), she maintains that "shimmer is another story altogether. A discreet sheen is actually very nice for the eyes. It catches the light and gives a bit of spark — subtle is the name of the game," she says.
Don't Get Stuck In A Beauty Rut
"I've often noticed that as women mature they often get stuck in a certain style of makeup," Reiss-Andersen tells The Zoe Report. But what works for you at 25 might not be what works for you at 45. "Instead, adjust to the physical changes that are happening," she advises. In other words, don't get stuck in a rut — allow yourself to experiment in order to find what works for you now. You might find that your best beauty look ever was waiting for you just beyond 40.